Why Mallam Aminu Kano is still remembered – Masari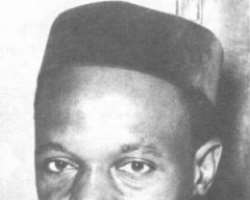 Late Mallam Aminu Kano is still being remembered 33 years after his death because he lived a life for the progress and development of the masses, Katsina State Governor Aminu Bello Masari has said.
Masari stated this today at the 33rd annual anniversary symposium in honor of the late Mallam Aminu Kano, organized by Mallam Aminu Kano Center for Democratic Research and Training, Mambayya House, Kano.
Governor Masari said many people died the same year as late Mallam Aminu Kano and many others after him, but they were not being remembered. He said, "It is not the matter of how long you live but how well you live. Late Mallam Aminu Kano has lived his life for others to enjoy. He sacrificed his time, money and experience for the masses.
Also speaking, Kano State Governor, Dr. Abdullahi Umar Ganduje identified corruption caused by bad upbringing as the major problem of Nigeria. Represented by his deputy, Professor Hafiz Abubakar, Ganduje said, Our fore fathers like late Mallam Aminu Kano were opportune to acquire both formal and informal education and they practiced them all in their daily affairs and that made them live well.
Presenting a paper, Mallam Aminu Kano's Politics, A Road Map for Social, Political and Economic change in Nigeria, Professor Sule Bello of the Department of History, Ahmadu Bello University, Zaria, said politics had been reduced to hooliganism. "Politics in Nigeria today was the biggestinvestment. Imagine people who were elected into political offices now allocating pension to themselves. This is not the ideology of late Mallam Aminu Kano.
Late Mallam had to borrow a coat to attend a constitutional conference during his time. Today our politicians are into politics to make money where good leader is someone who is ready to sacrifice for his subjects," Professor Sule Bello said.
The daughter of the late politician, Hajiya Maryam Aminu Kano said the political happenings in the country were not in conformity with the political ideologies of her late father. She said, "Our politicians have abandoned the political teachings of late Mallam. They rather concentrate on how to enrich themselves instead of working for the masses.
In his remarks, the Vice Chancellor of Bayero University Kano BUK Professor Muhammad Yahuza Bello described late Mallam Aminu Kano as a committed politician of all time, saying the Mallam Aminu Kano Center for Democratic Research and Training had started organizing the memorial symposium for the late Mallam AMinu Kano since 2001, saying so far 15 memorial events had been conducted by the centre since the death of the late political icon.