Nollywood Actor Butchered in Forest (photo)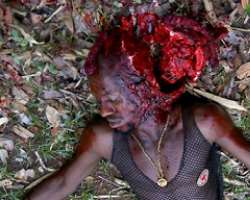 Recently, the cast and crew of the movie 'Holy Land' which is an ongoing movie production were thrown into confusion when one of their own was butchered in the forest.
This got many talking and wondering how this happened but it was not farfetched as the incident was made possible by one of the make-up artiste in set.
Some Nigerians are still scared of watching some Nollywood movies either due to the way the scripts are being plotted or the interpretation.
One aspect that the industry has really improved in is the aspect of the way make-up effect.