Abu Health Workers Strike: Group Seeks FG, Emir's Intervention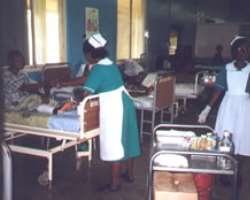 The ongoing strike by three health unions of the Ahmadu Bello University, Zaria has drawn public attention as it takes toll on innocent patients.
Joining the public concern, the Northern Emancipation Network yesterday said it has become necessary at this point to seek the intervention of the Federal Government and other national leaders especially the Emir of Zazzau in whose domain the University is located.
A statement signed by the Group's Coordinator, Abdul-Azeez Suleiman., said it was touched by the sufferings of in and out patients who rely on the services of the shut health facilities.
Suleiman said his group believes a prompt intervention by FG, the Senate and the Emir of Zazzau would bring an end to the impasse.
On Saturday, three medical associations, comprising medical doctors, nurses and midwives, and the academic technologists begun an indefinite strike to protest non-payment of entitlements in the last six years which has already caused distress to patients who are now faced to seek alternatives.
A statement by the unions and jointly signed by Aminu Mohammed, Hassan Garba and Yusuf Haruna for NADUHS, NAAT and NANNM respectively, said after wide deliberations, they have resolved to call their members on an indefinite strike.
The grievances highlighted by the unions include non-payment of teaching allowances and specialist allowances to technologists and nurses.
The unions also complained of non-implementation of shift allowances since 2010.
Other grievances include non-payment of medical hazard allowances, relativity and clinical supplementation allowances.
Worried by this development, NEN said its officials have attempted to persuade the union leaders who however appeared overwhelmed by their members ' grievances.
"When we spoke with the leader of
NANNM, Comrade Yusuf Haruna, he regretted that the University authorities are to blame for the consequences of the strike," Suleiman said.
"We plan to visit the University main campus sometime within the week to seek other likely options for getting the workers back to their jobs.
"We also call on other civil society groups and the religious community to speak in the interest of the distressed patients," Suleiman said.