HOLLYWOOD SIGN IS SAVED AT LAST MINUTE BY HUGH HEFNER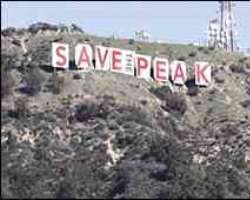 Hugh Hefner said the famous sign "represented Hollywood dreams"
The famous Hollywood sign has been saved from being spoiled by property development by a last-minute donation from Playboy mogul Hugh Hefner.
The soft-porn magnate gave $900,000 (£580,000) to the fund which was set up to stop the site being developed.
The sign is owned by the city, but the property around it belongs to a group of Chicago-based investors.
California Governor Arnold Schwarzenegger described the news as "the Hollywood ending we hoped for".
Governor Schwarzenegger said Mr Hefner's donation and a $500,000 matching grant brought to an end a $12.5m fundraising campaign.
'Hollywood's Eiffel Tower'
It means 138 acres around the hillside sign will be protected from developers, who wanted to turn the land into high-price housing estates.
"It's a symbol of dreams and opportunity," Gov Schwarzenegger said.
The investors had planned to sell the land to developers, but agreed to sell to the trust for $12.5m if the money could be raised.
The sign was draped in a banner to raise awareness of the campaign
Mr Hefner, who calls the sign "Hollywood's Eiffel Tower", said: "My childhood dreams and fantasies came from the movies, and the images created in Hollywood had a major influence on my life and Playboy."
Donations came from all 50 US states, 10 countries and celebrities, including actor Tom Hanks and director Steven Spielberg.
In February, the sign was draped with a banner which read "Save the Peak", to raise awareness of the campaign.
The Hollywood sign itself, which is set high up in the hills, was initially created in 1923 as an advert for a real estate development called Hollywoodland.
It never faced demolition, but campaigners were worried the famous vista would be ruined by the sight of properties towering over the four-storey high letters.