NDLEA arrests passenger with 193 wraps of cocaine in socks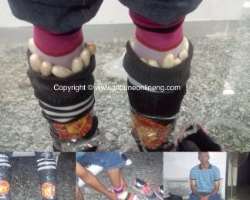 Operatives of the National Drug Law Enforcement Agency (NDLEA) at the Murtala Muhammed International Airport (MMIA) Lagos, have discovered one hundred and ninety-three (193) wraps of cocaine inside a passenger' socks.
The drug which tested positive for cocaine with a total weight of 3.4kgs was detected during routine screening of passengers on an Emirates flight from Dubai.
The suspect who is a commercial bus driver in Lagos has also been arrested.
Following the development, the Chairman/Chief Executive of the Agency, Colonel Muhammad Mustapha Abdallah (rtd,) has called for stringent monitoring of Dubai-Lagos route by officers.
According to Abdallah, "This is an interesting arrest and I commend the officers for the discovery. Dubai-Lagos route is gradually gaining notoriety and we are monitoring it closely. Let me assure members of the public that the NDLEA is working very hard in preventing illicit drug production, trafficking and abuse in the country"
NDLEA commander at the airport, Ahmadu Garba, who gave the name of the suspect as Maduewesi Ugochukwu Samuel, declared: "During screening of passengers at the arrival hall, officers noticed that he had some items attached to his legs. It was cleverly done but not good enough to escape our notice.
"When his socks were pulled down, suspected wraps of narcotics found to be cocaine fell down on the floor. He was immediately arrested and taken for further investigation."
The suspect who is a commercial bus driver told narcotic investigators that he wanted to quit driving for supply of electrical appliances saying: "I am a commercial bus driver in Lagos. I am from Anambra State. My friend who lives outside the country introduced me into drug trafficking.
"He promised to help me with capital to start my business but after sponsoring my trip to Dubai, he told me to smuggle drugs to Nigeria. I was instructed to conceal the drugs in my socks and that it will not be detected." - Tribune.