Yemi Alade Sizzles In Sexy Swimwear For Onobello.com Latest Issue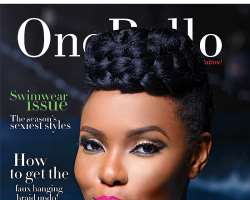 BEVERLY HILLS, April 15, (THEWILL) – Posing in the latest edition of OnoBello.com online fixture – singer Yemi Alade showcases the season's sexiest swimwear styles in these fun filled images.
For the photo shoot, Yemi wears styles from Andrea Iyamah swimwear.
In the exclusive interview for this issue, the singer talks about translating winning 'Peak Talent Show' back in 2009 to her present day success, the overwhelming acceptance of her latest album " Mama Africa " and how she has managed to remain 'scandal free' with the media watching her every move.
She doesn't just stop there, but gives tips on building a career in music, things she does for fun and her boyfriend! Oh yes, she certainly has a man…
For style and beauty, she talks inspiration behind her natural hair look and her top five go to beauty tips!
Read on for inspiration.
Shoot Credits
Photographer: Adebayo Adebusola Felix (Instagram: @felixcrown)
Light Manager: Orimolade E. Ayodeji (Instagram: @illuszionzofficial)
Creative Direction & Styling: OnoBello.com Team
Neckpieces: Nichole By Haguanna (Instagram: @nicholebyhaguanna)
Swimwear: Andrea Iyamah (Instagram: @andreaiyamahswimwear)
Make Up: Zaron (Instagram: @zaroncosmetics)
Hair: O'Naturals Natural Hair Salon (Instagram: @onaturals1)
Location: Maison Fahrenheit (Instagram: @fahrenheithospitality)
Outfit Details
Swimwear: Andrea Iyamah
Neckpieces: Nichole By Haguanna
Yellow Valentino Rockstud & Braccialini Clio Gem: Swank
---

Leave your views in comments box below.