I Have Handled 45 Cases in Court within 4 Months…K1's Daughter, Dami Masrshal Brags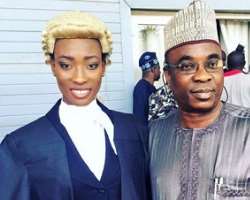 Its good news for the daughter of legendary Fuji singer, Wasiu Ayinde Marshal, Damilola, as barely four months since she was called to the Nigerian bar, she has been able to make good impact with the few cases she has handled.
Damilola boastfully revealed that within four months, she has been able to handle about 15 cases each both at the Federal High court, state high court and the magistrate court.
She explained that she is proud of how far she has come within the short period as she hopes to use her growth to inspire others to success.
In her words, "I am proud of the woman I have become Exactly four months at the bar today 15/4/2016, I have made almost 15 appearances at the federal high court, state high court and the magistrate court. Road to the bench I hope I inspire you."