Mide Martins in Serious Trouble After Celebrating Birthday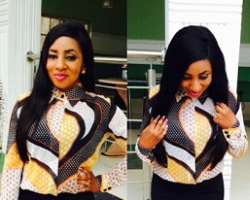 Pretty actress, Mide Martins, have given her teaming fans something to feed on after she refused to celebrate her husband who recently turned a year older.
The actress also turned a year older some days back which means she and her hubby are of the same birth month and while appreciating all the messages she got on her birthday, she was slammed for not celebrating her husband while other celebs were busy celebrating his new age.
Some of her fans accused her of not being proud of her husband as she rarely shares his pictures on social media.
This is not the first time the actress marriage will be rumoured to be in troubled waters as she has always denied having any challenges with her husband but with this latest attitude, some Nigerians are already feeding on the lacuna she has created.
• [email protected]: it's so disappointing that you can allow the whole world know what is happening in your home. Your husband celebrated you on His on page 3 good times and made you feel special but you can't even wish him happy birthday shaking my head for you. Even other fellow actress including your best friend Mercy Aigbe Gentry celebrated him, that's a slap and a shame on You.
• pemmieshireholuwasindara: No matter what is going on in your home, you should be able to celebrate your husband, make him feel loved. I believe you weren't taught like that in church, please don't watch other people the way they treat their husbands, instead you should embrace love, care, honour, respect him anywhere. You've been coping and I want you to endure because of your children. We all face challenges in marriages, not only celebrities. Stand on your feet and fight the challenges, make amend so that God and your mum would be happy with you in heaven, we love you dear
• ainafunmi.2015: I knew something was wrong just read it this morning that both of them have not been living together over a month now.
• ronkeolubunmy: I knew something fishing ever she praised herself amazing mother and she didn't mentioned or praised herself as a amazing wife but actress life are all the same feathers, someone that took u from nowhere, what they act inside the movie shows their character in real life,I can't imagine how she always trashed his hubby inside movie show it all (Owola lasan lasan and all that)now she is now (apon bi epo re) bleached herself the man doesn't suit her anymore. I don't care who u are. All this actress life are shame to Nollywood because they find it easily to be submissive that's why they divorce easily. Mchewwwww