Rugged Man, Weird M.c, Yinka Davies, Omo Baba, Daddy Showkey, Lay Singer Nomoreloss To Rest! Photos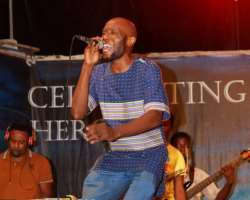 BEVERLY HILLS, April 13, (THEWILL) – Two weeks after the passing away of Nigerian musician Olumuyiwa Osinuga aka Mr. Nomorelos was laid to rest with a service of songs and tribute night, which took place on Thursday, 7th of April 2016 at Koga Studios, Alausa, Ikeja, Lagos.
Friends and well wishers came in droves to the service including his wife, wife, daughter, father and siblings as well as celebrities and socialites such as Rugged Man, Weird M.C, Yinka Davies, Joyce, Tony Bob Manuel, Bankulli, Omo Baba, Daddy Showkey, Nigga Raw, Edi Lawani, Tony Okoroji (Coson Chairman), Efe Omorogbe (Now Muziq), The Ibru Sisters, Puffy Tee, Gbenga Adeyinka, J. Martins, Ego and more.
It was indeed a sad day for all in attendance with many sporting gloomy faces. There was also a medley performance of some of his most popular songs by vaious artistes which got everyone on their feet reminiscing on the gift of the great composer and musician who left a remarkable legacy in the Entertainment industry.
Nomoreloss was finally laid to rest in the bosom of the Lord on Friday, 8th April 2016 at the Ikoyi Cemetery after the church service which took place at Four Square Church, Norman Williams, Off Keffi Street, Ikoyi, Lagos. The service was officiated by Deacon Abayomi Adetola Ayanbajo.
It was indeed a bitter experience for everyone who came to pay their last respect to the deceased. In attendance were family, friends and well wishers such as DJ Jimmy Jatt, Edi Lawani, Ade Bantu, Jaywon, Sasha, Princess, Yinka Davies, Rugged Man, Omo Baba, Righteous Man, Sound Sultan, Princess, Lepacious Bose, and many others. There were testimonies of the lasting impact Nomoreloss has left in the lives of people who met him while he was alive.
A farewell song was performed by Yinka Davies before his body was finally laid to rest which literally had everyone in tears.
A group of fans in attendance had this to say: "Nomoreloss will always be alive in our hearts. He is 'Still standing' to us".
He is survived by his wife, 5-year-old daughter, father, siblings and extended family.
See photos from his funeral rites below…
1 of 21
Rest in peace Olumuyiwa.