Seyi Shay Plans Trip To South Africa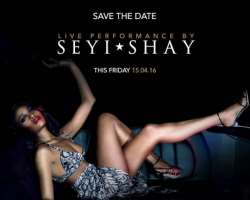 Raving female Superstar Seyi Shay continues her tour around Africa as she is billed to appear in South Africa to promote her album released late last year "Seyi or Shay".
The right now crooner who recently released visuals to her latest single "Mary" featuring Phyno to took her instagram yesterday evening to announce she will be in South Africa this weekend.
Seyi Shay is billed to make appearances at Classy Cape Town Night Club Coco & Kong Night Club in Johannesburg among other venues. The 2015 MTV MAMAS nominee follows up trips to Tanzania & Ghana she made earlier this year as she continues the hard work of getting her music across globally.
Seyi Shay recently announced in an interview that she is planning on releasing a video for her hit single with Olamide "Pack and Go".
ABOUT SEYI SHAY
Seyi Shay is an international recording artist, song writer and performer currently signed to Island Records UK, she has made a name for herself as one of the biggest artists to come out of Africa.
Seyi Shay also known as Oluwaseyi Deborah Joshua was born on December 21st 1985 in London, UK to Nigerian parents. She spent the majority of her life living in London. Seyi Shay discovered her passion for music at an early age and also got some valuable exposure when she was 14 years old as a member of the London Community Gospel Choir (LCGC) headed by Basil Meade, they embarked on a 13 city tour in Japan where they performed in front of hundreds of people.
Her first involvement in professional music came in 2005 when she signed a recording contract with Sir George Martin Music famed for producing music for the Beatles and No Apologies Music . During the duration of her contract Seyi Shay was credited for writing and producing three major songs for the Konami Game Sound track; "Crime Life", she also wrote the song "You will see" which featured on Mel C's critically acclaimed album "Beautiful Intentions".
Seyi Shay's first big break came in 2008 when she was snapped up and became a member of the girl band "From Above" which was at the time managed by Matthew Knowles, father and former manager of Beyonce Knowles. The Band consisted of 5 female singers from inter racial backgrounds, they enjoyed a fair amount of fame and in 2011 they released their debut album titled "Breaking From Above" and went on to star in their own reality TV show that aired world wide on MTV.
The band also supported Beyonce's "I AM" tour in 2009/2010. Seyi Shay went on to work with Chipmunk, Puff Daddy's "Dirty Money", Justin Timberlake, Brian Michael Cox, TuFace Idibia, Bilal, Chipmunk, Rob Knoxx & Harmony Sammuels, she has also shared the stage with Chris Brown, TuFace Idibia, D'Banj, Rick Ross along with a list of superstars.
Seyi Shay's career in Nigeria started in 2012 as she was introduced to the market by Flytime Entertainment and was managed by Cecil Hammond. She went on to release several singles; Irawo, No Lele, Loving Your Way, Chairman, Ragga Ragga, Crazy featuring Wizkid and Murda featuring Pato Rankin' and Shaydee which won her many admirers both local and international.
On July 23, 2015 Seyi Shay announced she had just signed an international recording contract with Island Records UK and that they will be distributing all her music worldwide, a month later she shared the same stage with Neyo in a duet performance that was televised worldwide at the 2015 MTV Africa Music Awards in Durban, she was also nominated as the "Best Female" and Crazy featuring Wizkid for the "Video of the Year" at the award ceremony.
Seyi Shay is also heavily involved in Charity and Philanthropy, in May 2015 she set up a foundation called 'SHAY A RAY OF HOPE' which she hopes to use to change the lives of under served children especially in Africa.
Off the back of signing a lucrative deal with global beverage brand Pepsi, Seyi Shay recently released her highly anticipated début solo album "Seyi or Shay" featuring house hold hits "Right Now", "Murda"and "Crazy"
BECAUSE YOU'RE BUZZ WORTHY