LECTURER CRITICISES OBASANJO FOR DEMOLISHING TOLL GATES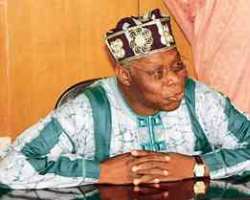 Obasanjo
A lecturer at the University of Benin, Dr. Douglas Osula, has faulted former President Olusegun Obasanjo's decision to demolish toll gates erected on the country's highways as ill-advised.
He added that if the ex-President had consulted widely with the stakeholders, he would have given the decision a second thought.
Osula, an associate professor at the Department of Civil Engineering, UNIBEN, spoke at the third Lawrence Arokodare Day lecture, organised by Etteh Aro and Partners, in Ibadan, on Tuesday.
The lecture entitled, 'Transportation planning as a prerequisite for road infrastructural development,' was organised in memory of the late founding principal partner of the engineering firm.
The surviving founding principal partner, Rev. Etteh Etteh, regaled the audience with the achievements of his deceased partner within the 23 years that they spent together on the driver's seat of the company.
The Ekiti State Governor, Mr. Segun Oni, who was represented by the state's Commissioner for Works, Chief Abiodun Olujinmi, also spoke glowingly about Arokodare's contribution to his native Ekiti land.
He was specifically remembered as having produced a master plan for road development in Ado-Ekiti, the state capital, in anticipation of the creation of the state, which was realised after his death.
The governor promised that the design of the proposed Ekiti ring road would be awarded to the firm, which the 'son of the soil' co-founded, as part of efforts to immortalise him.
In his lecture, Osula said that accruals from the toll gates would have been handy to augment the fund required to maintain the dilapidating FG roads, which had been neglected because of paucity of fund.
To drive the country's economy, he said there was a need for government at all levels to develop a comprehensive transportation plan that would outlive successive regimes.