Rivers PDP Chairman, Bro. Felix Obuah, Happy Over Mass Defection of APC Members to PDP in Gokana LGA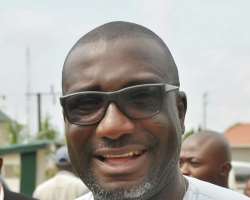 ---Assures them of All Rights, Privileges as Members
-- Says Development Indicates Electoral Failure Of Magnus Abe
-- Reiterates PDP Commitment to Deliver on its Campaign Promises
Impressed by the latest mass defection of members and stalwarts of the All Progressives Congress, APC, in Gokana Local Government Area, to the Peoples Democratic Party, the Rivers State Chairman of the PDP, Bro. Felix Obuah, earnestly welcomes the new members, thanking and congratulating them for their courage and taking the right decision to join the endearing Party.
The State PDP Chairman describes the defection of over 1000 members of the APC in Gokana to the PDP as a remarkable victory over Mr. Magnus Abe and sign of total collapse of the APC in the area, as well as further reassurance of the overwhelming success of the PDP in the Ogoni area and the entire Rivers South-East Senatorial district.
At the event which took place on Sunday, April 10, 2016, in wards 5 and 6 (K.Dere), we received 137 members of the APC, in ward 1(Bodo), 100 APC members dumped the party for the PDP, while in wards 2 and 3, also in Bodo, over 90 APC members joined the PDP, and in wards 12 and 17 (Biara), 100 and 120 APC supporters respectively dumped the APC for our great Party, the PDP. These numbers, in addition to those earlier received in the other wards in the area, are quite encouraging and clear indication that the PDP government in the State is doing well.
It is therefore, a thing of joy to us in the PDP as we make progress in boosting our membership and support base in this critical area, the Ogoni axis, of our State, and having a sense of acceptance by the people. As we again, salute the timely realization and resoluteness of the decamping APC members to join our fold, we also urge others to take advantage of the large umbrella that can accommodate all well-meaning Nigerians, by taking a cue to be part of our success story in the State.
Bro. Obuah assures the APC members who have decamped to the PDP that they will not be neglected or discriminated against, but will enjoy all rights and privileges as bonifide members of the Party. He also commended the leadership of the PDP in the area for their efforts leading to the success of the Party and charged them to sustain the tempo.
The Rivers PDP Chairman also calls on the new members and the people of the State to continue to support the Governor, Chief Nyesom Wike, in moving the State forward, reiterating that the PDP government will not fail to deliver on its campaign promises.
Signed:
Jerry Needam
Special Adviser on Media to
State PDP Chairman, Bro. Felix Obuah
Monday, April 11, 2016