Dangote performs ground-breaking for $1b cement plant in Edo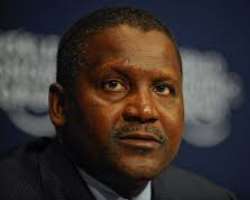 Dangote Group has continued on its growth drive, which has placed it among the top cement producers in the world.
The Nigerian multinational firm on Sunday performed the $1 billion ground breaking of Dangote cement plants  at  Okpella, Edo State.
Chairman of Dangote Group, Alhaji Aliko Dangote, on the occassion reaffirmed his commitment to investing in Nigeria's economy, saying that the new plants are expected to add six million metric tonnes of cement per annum to the company's current output with potential for 6000 jobs.
It currently produces about 35 million  metric tonnes per annum.
Dangote, who spoke during the ground-breaking ceremony,  said Nigeria still remains the best place to invest in the world, adding that  a key factor that drives investments in an economy is the presence of an investor-friendly business climate.
on the choice of Edo, the billionaire   businessman said that the state offers  one of the most attractive investment destinations in Nigeria.
"The economic reforms in Edo State, especially in the area of tax, innovations in rural finance and investment on infrastructure, have produced an enabling environment that has further provided a platform for future growth. All these factors made us consider investing in the state. Nigeria is a growing economy. Our developmental challenges are quite enormous and will require the combined efforts of government and private sector to overcome them. It is in this light that we are here to contribute our own quota to transforming the economy of Edo State as we have done elsewhere.
Dangote explained that the investment in Okpella, Edo State was one their several successful projects ongoing in parts of the country and outside in more than 15 other locations in African countries, in line with their Pan African investment strategy.
According to him,  "Last June, we commissioned our cement plant in Ethiopia, and in August of same year in Zambia and Cameroon. We commissioned our plant in Tanzania in October. We plan to commission very soon, some of our other African plants in Senegal and South Africa. Also last year, in Lagos, we signed a deal valued at $4.34 billion, with Sinoma International Engineering Company Limited, for the construction of 10 additional new cement plants across Africa, with one in Nepal in Asia.
The combined capacity of these new projects will be 25 million metric tons per annum. "By the time all these new projects are completed in the next few years, we will have a total capacity of 81 million metric tons per annum. This will make us one of the top six cement companies in the world. We are currently consolidating our cement businesses across Africa in order to reap the benefits of scale.
"As a matter of fact, our operational offshore cement plants have started to make substantial contributions to our group revenue. By God's grace,  we will all gather here again to commission this plant within the next 26 months. There is no doubt that the presence of the plant here will impact positively on the community, its people and the state."