Govt to borrow N1.84tr to fund 2016 budget – DMO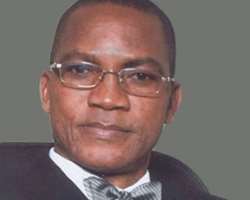 The Federal Government is set to borrow N1.84 trillion from external and domestic markets to finance the 2016 budget, the Director-General, Debt Management Office, DMO, Dr. Abraham Nwankwo has said.
According to him, the government will borrow N900 billion and N984 billion from the external and domestic markets respectively to fund the budget.
Speaking during a workshop on Debt sustainability and the challenge of financing economic recovery by the DMO for the Nigeria Union of Journalists (NUJ) in Abuja, at the weekend, Nwankwo said the challenge of infrastructural development and economic recovery are enormous; therefore, the imperative of the government to seek for alternative funding of which debt sourcing was an integral part.
He urged the media to key into the government's debt management policy.
The DMO chief observed that the media has a critical role in informing Nigerians of the importance of debt financing in economic development especially with declining oil and gas revenue being faced by the country and around the globe.
He said Nigeria's debt-to-Gross Domestic Product (GDP) ratio as at December last year was at 13.02 per cent, which he said was far below the peer group ratio of 56 per cent.
Explaining further, Nwankwo said the logic of the mix— external and domestic borrowings, is 'to rebalance total public stock in favour of less costly external funds,' while stressing that 'the utilisation of the borrowing proceeds are entirely on capital projects to support the growth of productive capacity.'
He said to address the huge infrastructural deficit in the country effectively, the funding implications for Nigeria is about $25 billion per annum over the next five to seven years.
The worry in the funding of such huge infrastructural challenge, the DMO said, lies in private sector equity and debt, which he explained is uncertain as well as public sector revenue and debt which has been adversely affected by declining oil revenue.
To address the imbalance, he said: 'The imperative is to depend on well structured, substantial, affordable, long-term external debt financing to fund the desired long-term economic change.'
Nwankwo urged the leadership of the NUJ to engage its members to explain the desirability of public debt financing to Nigerians.
NUJ President, Mr. Waheed Odusile, commended the DMO for the workshop, which he described as timely and educating, urging the office to expand its enlightenment to other critical stakeholders.
Odusile promised that the union would continue to engage with the DMO in order to help pass on the appropriate information on the activities of the office and the importance of debt financing for the country's development needs. The Nation