DSS blames Biafra group after dozens found in graves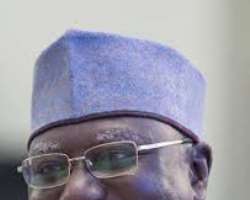 Nigerian secret police have accused a Biafra separatist group of killing 55 people after discovering their bodies in shallow graves in a thick forest in the country's southeast.
The Department of State Service (DSS), Nigeria's domestic spy agency, said the graves were found in Umuanyi forest in Abia state, home to the Indigenous People of Biafra (IPOB) movement.
It issued a statemant late Saturday accusing IPOB members of playing a "heinous role" in the abduction of five Hausa-Fulani residents, although the claims were dismissed by another Biafran group.
"The abducted men were later discovered at the Umuanyi forest, Abia state, where they were suspected to have been killed by their abductors and buried in shallow graves, amidst 50 other shallow graves of unidentified persons," spokesman Tony Opuiyo said in the statement.
"Arrests and investigation conducted so far revealed that elements within the IPOB carried out this dastardly action," he said.
IPOB was founded by Nnamdi Kanu, who is currently on trial for treason in a high-profile case in Abuja.
He was arrested in October for operating pirate Radio Biafra where he was alleged to be broadcasting "seditious messages" against Nigeria.
Kanu has emerged as the new face of the campaign for a separate Biafran state, nearly 50 years after a previous unilateral declaration of independence sparked a brutal civil war.
The conflict from 1967 to 1970 left about one million people dead, many from starvation and disease, as Nigerian troops blockaded the fledgling Republic of Biafra.
IPOB supporters have staged a series of protests across the country in recent months to demand his release and call for a breakaway state for the Igbo people, one of the largest ethnic groups in Africa.
The leader of the Movement for the Actualisation of the Sovereign State of Biafra (MASSOB), another pro-Biafra group defended the IPOB against the latest charges.
"The DSS allegation against the pro-Biafra agitators lacks merit and evidence because MASSOB and IPOB are non-violent organisations," Uchenna Madu told AFP.
"They want to blackmail us as violent or terrorist group in order to get evidence against Nnamdi Kanu," he said.
He vowed that action by pro-Biafran groups would continue until their objective of a separate homeland for the Igbo people is achieved.