EFCC RECOVERS $6BN FROM EX-GOVS, OTHERS … N1TN PROPERTIES SEIZED FROM EX-BANK CHIEFS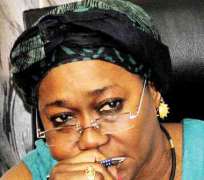 EFCC Chairman, Farida Waziri
The Economic and Financial Crimes Commission has recovered over $6bn from indicted former public office holders , and businessmen since its inception in 2003.
Out of the sum,$3.5bn was seized by the anti-graft agency in the last 18 months.
The EFCC Chairman, Mrs Farida Waziri, disclosed this in an interview with Economic Confidential, an online financial intelligence magazine.
'The commission has between its inception and now recovered over $6.5bn. We have taken over 700 cases to court, with a record of over 400 convictions while the rest are still pending before the courts,' she said.
Waziri explained in the interview which will be posted by the online magazine on its website, www.economicconfidential.com, on Wednesday (today), that over 80 convictions were secured by the agency in the past 18 months.
An excerpt of the interview was obtained by our correspondent on Tuesday.
According to the anti-graft agency chief, over 50 high-profile cases had been taken to courts by the agency as against the 10 she inherited from her predecessor, Mallam Nuhu Ribadu.
Some of the high-profile cases are those involving former governors Michael Botmang(Plateau); Boni Haruna (Adamawa); Rasheed Ladoja(Oyo); and Attahiru Bafarawa(Sokoto); Abdullahi Adamu (Nasarawa).
Others are a former Chairman of the Nigerian Ports Authority, Chief Bode George; ex-Ministers of Aviation, Chief Femi Fani-Kayode; and Dr. Babalola Borisade; and a former Minister of the Federal Capital Territory, Mallam Nasir el-Rufai.
Also mentioned by her as high-profile cases are the N5.2bn Rural Electrification Agency contract involving Senator Nicholas Ugbane, Mr. Ndudi Elumelu and others; an Indian businessman, Mr. Patrick Fernandez; 13 Filipinos who recently bagged 65 years imprisonment for oil theft; and six Ghanaians who are being prosecuted for a similar offence.
The EFCC secured the conviction of George and five others on October 26, 2009 for disobedience of lawful order, abuse of office and splitting of contracts.
George and the other convicts - the former Managing Director of the NPA, Aminu Dabo; Olusegun Abidoye; Abdullahi Tafida; Zanna Maidaribe; and Sule Aliyu -are currently serving two years jail term at the Kirikiri Maximum Prison, Lagos.
Fernandez is being tried for attempting to defraud some Nigerian banks of about N32bn.
The EFCC is prosecuting Fani - Kayode on a 47-count charge of alleged laundering of about N250m in one of the new generation banks.
The EFCC boss added that assets valued at about N1tn had been tempoarily seized from some former bank chiefs being prosecuted by the commission.
'We have also secured temporary forfeiture of assets of some of the bank executives we are prosecuting. These assets alone are worth almost a trillion naira.'
The assets include luxury houses and exotic cars.
Some the former bank chiefs facing trials are Mrs Cecilia Ibru (Oceanic International Bank Plc); Mr. Francis Atuche (BankPHB); Mr. Bartholomew Ebong (Union Bank of Nigeria Plc); Mr. Okey Adibe (Finbank); and Mr. Sebastine Adigwe (Afribank Plc.).
Another former bank chief whose assets had been seized but is yet to be arraigned by the EFCC is Chief Erastus Akingbola of Intercontinental Bank Plc.
Akingbola escaped to the United Kingdom shortly after the Central Bank of Nigeria sacked him alongside Ibru, Ebong, Nwosu and Adigwe, for alleged unwholesome banking practices.
Some directors of the bank, including its former chairman, Mr. Raymond Obieri, are also being prosecuted by the EFCC.
The Economic Confidential also said that the EFCC had developed and deployed EagleClaw, a software that would change the face of fighting cyber crime, including Advance Fee Fraud (419) in Nigeria and other parts of the world.
EagleClaw, Waziri explained, sniffed out all fraudulent e-mails and monitored them with the option of destroying them.