OGYPEDI Condemns Attack Of Fulani Herdsmen On Innocent Nigerians A Call For Urgent Salvage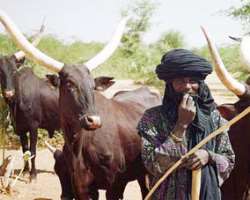 We are calling on the PMB government to give urgent attention to the lingering Fulani herdsmen Saga and brutality on innocent lives, most especially farmers across the country.
These cattle rustlers are our brothers with a different ideology who have resulted to engaging in diverse means in carrying out their brutal attacks such as theft, kidnapping, rapping of women, killing of innocent farmers, destruction of crops, farm lands and many more.
Failure to tackle this urgently can degenerate into a conscious romance with anarchy, because the affected communities can result to reinforcement and that can spell doom for our nation.
There have been series of attacks launched by these Nomads in the Niger delta, middle belt and other parts of the country respectively. In recent times a monarch was annihilated in Delta Igbo by these same cattle rustlers, for time will fail us to start writing on the mass Agatu killing in Benue state and other parts of the country where many lives were practically condern to death consequently.
This can be best described as the height of brutality against humanity. This is how Boko Haram started by claiming many lives and rendering many people homeless why we are yet to recover from these barbaric and callous attacks of the Boko Haram. These cattle rustlers are about to harass the hard earned returning peace, of which we must not allow to happen never again. We can't afford to lose any more life, enough is enough.
Currently they have become a great security threat to national peace of our her nation. For this course we call on PMB and the National Assembly to set up urgent mechanism to mitigate this menace as urgent as possible for a peaceful resolution because peace is a major factor in any process.
Therefore we as an Organization that promote peace and justice in our nation suggest possible remedies to the current herdsmen saga, that government should make haste in establishing grazing reserves in each state of the federation where the cattle rustlers shall be confined to for their grazing activities, Arms may not be necessarily be taken from them because they would require it to carry out their operations, but a law should be made to pass a dreaded legal sentence on any one that may carry out an attack on a defenseless individual and more so there is a huge need them to be resensitized on the need for tolerance and peaceful co-existence, they need pictures, paintings, seminars and other measures that can easily be comprehended by them, more importantly they should also be addressed by their key and prominent leaders as why peace is necessary to help nation building and unity.
So government must be awake for an urgent resolution and if most of the above listed mechanisms are put in order, peace will doubtlessly be restored to out communities.
We want to also use this privilege to call on Mr. President to device urgent measures unbiasedly to mitigate the brutal massacre on innocent lives in river state. We also want to call on the IGP to ensure that his officers and men glow to their call of duty which is to protect lives and properties under their watch.
Our aim as an organization is to pursue peace and say NO to violence, killing, cultism, bad governance, corruption, kidnapping and any factor that defiles peaceful co-existence in the society.
From Japhet omene member Global Youth Peace and Empowerment Initiative 08066059077.