Dear Acting President Goodluck Jonathan, Tell that to the ...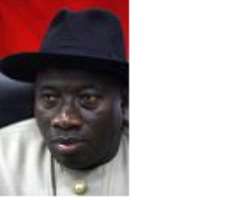 Nigeria's Acting President Goodluck Jonathan
Dear Acting President Goodluck Ebele Jonathan,
The headlines of your presidential order for the manhunt and arrest of Chief James Ibori, the former governor of Delta state are all over the place online and offline.
You have said there would be no sacred cows in the anti-graft war in Nigeria. But I wonder why you have not ordered the EFCC to arrest those indicted in the Halliburton Bribery and corruption case and those indicted in the Daimler bribery scandal?
Are you afraid of these UNTOUCHABLE SACRED COWS?
Lest I forget, what of the sweetest sacred cow in your home. No, not the other woman in your life. Your private love affair is not my business oh.
I mean your CASH MADAM herself, the Acting First Lady or First Lady in Waiting, who has been fasting and praying for First Lady Turai Yar'Adua to return to Katsina state with her medically incapacitated husband and vacate Aso Villa for her BOTTOM POWER.
Is it not on record that on September 11, 2006, the Economic and Financial Crimes Commission (EFCC) seized $13.5 million dollars (US) from Mrs. Patience Jonathan when you were the lucky governor of Bayelsa State? She laundered the money through an associate and in August of the same year, the EFCC had a court order to freeze N104 million Cash Madam Patience allegedly tried to launder through one Mrs. Nancy Ebere Nwosu. The EFCC confirmed that in a sworn statement, Mrs. Nwosu implicated Patience Jonathan.
Mr. Acting President, if your Acting First Lady and the other cabal of your ruling party of Sacred Cows can still be dining and wining and wishing you goodluck in your chess of political power to become the next President of Nigeria, then I am shocked that you had the audacity to order the arrest of Chief James Ibori. Is this your own style of the anti-graft war.
Please, tell that to the Marines.
Yours Proudly Nigerian,
Orikinla Osinachi