Samy Pay Tribute To Lier, Promise Stronger Lierse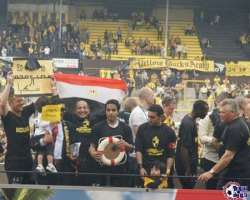 Egypt's Majed Samy vowed to take Lierse SK to further heights following the promotion of the second division' side to the Belgium premier league.
The business tycoon who took over Lierse 3 years back, led the Belgium club to the premier league after 2 futile stabs.
Samy paid high tribute to Lierse fans..
"The fans of the city backed their club so strongly.. they are same like Egypt fans and I really thank them very much for their valuable support", Samy said after his teams epic victory over KS Waasland.
Lierse scored twice in their crucial tie on Sunday against RS Waasland to earn promotion one round before the second division competition ends.
They stood five points clear of Lommel who is rested in the second place with 67 points in hand.
Lierse's owner, who owns Wadi Degla club in his homeland Egypt, promised more stronger squad.
"We will bring in more players to make our good team even more stronger", Maged signed off.
* Lierses goals against Waasland
|
Article source