A National Reminder Of Change Mantra As Promised Approximate Costs Of Key Projects In Buhari's Manifestos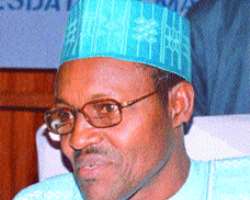 This analysis is based on the trend of FG finances in the past 3yrs and projected spending based on APC's manifestos.
1. Small Business loan Guarantee Scheme (Take-off fund needed- N10tn)
The incoming government promised Small Business Loan Guarantee Scheme to create at least 5 million new jobs by 2019. An average cost of creating a sustainable job is put at N2Million. Convincing lenders to issue loans to business with little or no record will require a lot of political will with potential 65% failure rate among SMEs. The Nigerian Government might end up assuming debts in the region of N6.5tn.
2. National Identification Scheme (Take-off fund needed - N100bn)
According to INEC, it takes about N1,300 to produce and distribute Biometric Voters card. To give every Nigerians a national Identity card, an investment of N100bn is needed.
3. Regional Growth Fund (Take-off fund needed - N300bn)
To balance the Nigerian economy across regions by the creation of 6 Regional Economic Development Agencies (REDAs) to act as sub regional hubs in order to promote healthy regional competitiveness, will put in place a N300bn Regional Growth Fund with an average of N50bn in each geopolitical region; to be managed by the REDAs, to encourage private sector enterprise and to support places currently reliant on only on the public sector, to migrate to a private sector reality.
4. National Mortgage -Single digit Interest Rate (Take-off fund needed- N16tn)
To create additional middle class of at least 4 million new homeowners by 2019 by enacting national mortgage single digit interest rates for purchase of owner occupier houses as well as review the collateral qualification to make funding for home ownership easier, with 15 to 30 year mortgage terms. This will equally help the banking system migrate from short to long term perspective of their role in sustaining the economy. At a cost of N4m as take-off fund per house, N16tn is needed.
5. Conditional Social Welfare program (Take-off fund needed - N1.25tn/yr.)
Create a Social Welfare Program of at least Five Thousand Naira (N5000) that will cater for the 25 million poorest and most vulnerable citizens upon the demonstration of children's enrolment in school and evidence of immunisation to help promote family stability.
6. Unemployment allowance (Take-off fund needed – N65bn/yr.)
Provide allowances to the discharged but unemployed Youth Corps members for Twelve (12) months while in the skills and entrepreneurial development programmes.
7. Agricultural Commodity Trade board (Take-off fund needed – N250bn)
Guarantee a minimum price for all cash crops and facilitate storage of agricultural products to overcome seasonal shortages of selected food crops.
8. National infrastructural Development programme (Fund needed - N18tn)
N8tn for the 5000 km superhighway, N10tn for the 6800km modern railway embark on a National Infrastructural Development Programme as a Public Private Partnership that will
(a) ensure 5,000km of Superhighway including service trunks and (b) building of up to 6,800km of modern railway completed by 2019.
9. Petroleum refinery (Take-off fund needed - N100bn)
Revive and reactivate the minimally performing Refineries to optimum capacity;
10. One Meal per Day(Take-off fund needed - N438bn/yr.)
Provide one meal daily for all Primary School pupils. That will create jobs in Agriculture, Catering, and Delivery Services, at a cost of N50 per day for 24 million primary school pupils.
11. Six new Universities & Satellite campuses (Fund needed –N120bn)
Establish at least six new Science and Technology universities, with satellite campuses in various States. The six universities will be fully equipped with ICT technologies, in order to attract and encourage graduates to become small and medium scale ICT entrepreneurs upon conclusion of their university education.
12. New technical colleges and Vocational centres (Take-off fund needed – N36bn)
13. Special Educational needs: Centres of excellence (Take-off fund needed – N6bn)
Establish six centers of excellence to address the administrative and infrastructural needs of Nigeria's special education needs sector.
14. National health expenditure (Take-off fund needed – N8.8tn/yr.)
Increase the number of physicians from 19 per 1000 population to 50 per 1000, through deliberate medication education, as epitomized by other nations, including Ghana.
To increase national health expenditure per person per annum to about N50,000 (from current estimates of less than N10,000).
15. World class hospitals (Take-off fund needed – N500bn)
Increase the quality of all federal government owned hospitals to world class standard by 2019
16. The Great Green wall (Take-off fund needed – N20bn)
Create shelter belts in States bordering the Sahara Desert, to mitigate and reverse the effects of the expanding desert.
17. Electricity (generate, transmit and distribute 20,000MW) (Take-off fund needed N5.4tn)
Generate, transmit and distribute 20,000MW of electricity on a 24/7 basis, whilst simultaneously ensuring the development of sustainable/renewable energy by 2019
Culled from Track General Buhari's promises at http://www.buharimeter.ng
LET US BE HOPEFUL, NIGERIA SHALL BE GREAT AGAIN, ONLY IF……
Ifedayo Obi
(A member of Shadow Cabinet of Nigeria and Lead Partner of Good Governance Advocates)
You can follow him on Twitter @IfedayoObi
Disclaimer:

"The views/contents expressed in this article are the sole responsibility of the author(s) and do not necessarily reflect those of The Nigerian Voice. The Nigerian Voice will not be responsible or liable for any inaccurate or incorrect statements contained in this article."