Why Saraki Must Go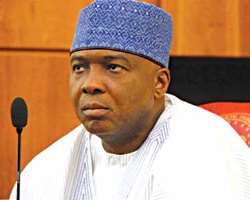 The Panama papers has provided further evidence to justify the imminent exit of erstwhile Senate President, Bukola Saraki from office. Indeed the greatest miracle of this 8th Senate is how he has remained in office for this long considering precedent in the legislature where past leaders like Salisu Buhari, Chuba Okadigbo, Patricia Ette, Evans Everwem and Pius Anyim Pius were ousted from office for not dissimilar misdeeds.
With the largest information leak in history of 11.5 Million documents relating to offshore accounts, money laundering, tax evasion and fraud called the Panama Papers, it is indeed unsurprising to see Saraki's name stick out like a sore thumb amidst the gold mine of information disclosed.
The Gentleman's agreement signed when the five parties merged to effect the ouster of the unpopular ex-President Goodluck Jonathan was a marriage of convenience of strange bedfellows whose common foe was the marginalizing misrule of the then incumbent. New PDP, ACN, ANPP, CPC and a faction of APGA formed a grand alliance to end the 16 years of PDP rule amidst a power sharing formula.
CPC was allocated the Presidency, ACN the VP, New PDP Senate President, ANPP The Speaker of the House and APGA Secretary to the Federal Government. Indeed all was rosy until the ambition of Saraki was set to upset the apple cart after their primary unifying political goal of driving Goodluck Ebele Jonathan from power was accomplished. Saraki is no saint for he carries a vast armamentorium of fraudulent baggage.
From his failed banking expedition with Societe Generale Bank, to his chequered sojourn as Governor of Kwara State, Saraki has accumulated a chest load of skeletons in his cupboard over the years. Instead of hiding away in the midst of a crowd of fellow chequered leaders like Akpabio, Jang, Mark and co, he chose the limelight forgetting that he that comes to equity must come with clean hands.
Despite the party's misgivings of his candidature considering his heavy load of corruption baggage he managed to wriggle his way into office by conniving with opposition PDP senators and his old stomping mates for his goal to surpass his late father, Olushola Saraki whose political dynasty he inherited was more appealing than common sense. Obviously he thought his exalted office will indemnify him from further scrutiny but alas this was not the case.
When the Code of Conduct Tribunal came calling the shenanigans of cries of witch hunt and public prosecution were his defense amidst the garrulous accumulation of SAN'S who were more than eager to rush to his defense amidst allegations that he failed to properly declare his assets. Indeed a man is innocent until proven guilty but with the mountain of evidence accumulating buttressed by the leaked Panama Papers the guilt in the court of Public opinion of Saraki is beyond doubt.
The honourable thing to do is to resign and protect the integrity and honour of the senate. But alas, there is honour among thieves as typified in the Best selling novel by Jeffrey Archer. Birds of the same feather stick together. Hence a Senate who has failed to do anything honourable and has descended into a deluge of inconsequential talk ranging from denying women equal opportunity to discussing how to furnish men with two or more wives, the impetus to removed a tainted Saraki is just not there.
In a twist of events the retinue of solidarity senators who flock round Saraki at his appearances before the CCT is mind blowing. Instead of censuring the embattled Senator some "honourables" have become chauffeurs and personal body guards to Toyin, the wife of Bukola Saraki who faces money laundering charges for acting as the front through which Saraki allegedly hid ill gotten assets.
The Panama Papers should be the final roll of the dice were Saraki is concerned and he should honourably negotiate his exit. God loves a repentant sinner but pride goes before a fall. Saraki should go. His continued sojourn in office without restitution and genuine repentance is an affront on the anti-corruption stance of this regime and the Change Nigerians voted for.
Saraki should exit honourably or be ready to leave in disdain manner. There are only two sides of a coin and his chances of political survival are getting slimmer by the day.
Usman Mohammed
Department of Mass Communication,
IBB University, Lapai-Niger State. 07060815443
Disclaimer:

"The views/contents expressed in this article are the sole responsibility of the author(s) and do not necessarily reflect those of The Nigerian Voice. The Nigerian Voice will not be responsible or liable for any inaccurate or incorrect statements contained in this article."