SMEs fundamental to future of Nigerian economy – Heritage Bank MD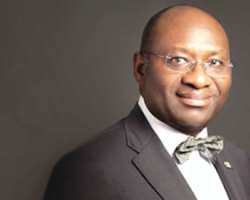 The Managing Director/Chief Executive Officer, Heritage Bank, Mr Ifie Sekibo has described Small and Medium Scale Enterprises, SMEs as the key to the future of the country stressing that one of the vision of the bank is to support young entrepreneurs to contribute to the socio-economic development of Nigeria.
He said that the bank has invested heavily in SMEs sector including clinics and mentoring sessions aimed at getting young people to believe they are the solution to their own problem.
Speaking yesterday at a young entrepreneurship programme tagged: 'Leadership clinic, an evening with Ifie Sekibo', organized by Guardian of the Nation International, a non-governmental organization founded by Linus Okorie, the Heritage bank boss said with the right attitude and vision, success would be achieved.
According to him 'you need team work, corporation and the right attitude and vision to build strong institutions which is the focus of the bank at the movement'
He said that leadership is a conversation that creates entrepreneurships with the right attitude, adding that it was this attitude that brought Heritage bank back to life: said he 'No bank has ever died and after 10 years rise again, but Heritage Bank rose after 10 years of death, this has to do with the right vision and attitude'
The MD further explained that he believed in tenacity which comes from entrepreneurship, stressing that building partnership with like minds and changing mindset could do a lot for the nation, adding that for young Nigerians to build a good future, leaders should begin to think about vision related change.
He said that thinking rich will not add any value to Nigerian youth but advice the youth to focus on wealth creation which he said is the right channel to economic development and which Heritage Bank is investing into.
Speaking earlier in a welcome address, Linus Okorie said the event was designed to celebrate with Heritage Bank for its interest in supporting the course of young Nigerians in building strong institutions and preparing them for future leaders.
'We are here today to celebrate responsibilities and greatness, today we are here on a platform that was built on responsibilities, leadership clinics is based on galvanizing and bringing together like minds' he said
The mentorship programme which was well attended attracted over 1000 participants made up mostly of young men and women and aspiring entrepreneurs from across the Federal capital territory and its neigbouring states.
Also in attendance were business executives from public and private sector organizations as well as top executives of Heritage Bank including the Divisional Head,Abuja and North, Mr Lawrence Okate and the Group Head Corporate Affairs, Igwe U Igwe.