VIRGIN NIGERIA: 'IBRAHIM HAS ISSUES TO CLEAR'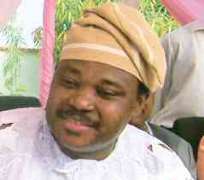 Jimoh Ibrahim
The Group Managing Director of Global Fleet, Mr. Jimoh Ibrahim, who just acquired majority shares in Nigeria Eagles Airlines formerly known as Virgin Nigeria, still has 'hurdles to cross and issues to clear' with Richard Branson's Virgin Atlantic Airways Limited, owners of 49 per cent share in Virgin Nigeria.
The Representative of Branson's Virgin Atlantic Airways in Nigeria , Chief John Adebanjo, while confirming that Ibrahim had acquired 51 per cent controlling shares in Virgin Nigeria, noted that the deal was not yet totally concluded until those issues were resolved as far as Virgin Atlantic was concerned.
He disclosed that VAL was making efforts to resolve the issues with the new owners of Virgin Nigeria, just as he also hoped that the matter would be amicably resolved in the coming days.
Adebanjo, who did not disclose the matter for legal reasons, said, 'The matter lies in the hands of the new owners of the airline. They still have one or two hurdles to cross, and certain issues have to be cleared with us (Virgin Atlantic Airways Limited).'
'Of course Richard Branson's Virgin Atlantic Airways Limited still has 49 per cent shares in the airline. Up till now, nobody has approached us that they want to buy it but it is open for sale.'
But aside this, the new owners have certain issues to clear with us.' He stressed.
Adebanjo however noted that although VAL was happy with the acquisition of 51 per cent stake by Ibrahim as this is expected to help reposition the carrier.
'I respect Dr. Jimoh Ibrahim as a businessman, and I hope he will reposition the airline because VAL has created the good structure but they have to clear with us. We are ready for them as soon as they are ready for us.' He noted.
In a swift reaction in a telephone interview with our correspondent, Ibrahim said that issues concerning the airline had to be resolved at the board and not in his house.
More so, he said that he expected VAL to bring any matter they had forward to the board, noting that matters were not raised or settled on the pages of the newspapers.
He said, 'I now have the majority shares. The minority should come to the majority and not the other way round. Issues are discussed at the board and not in my house or the pages of the newspapers. If they have any issue, let them bring it to the board. Anyway, extend my compliments to them '
Meanwhile, palpable fear has gripped workers of Nigerian Eagle Airline over what they considered as looming job losses expected to follow the acquisition of the airline by Ibrahim.
Some of the workers, our correspondent gathered were also worried that what befell some workers of EAS Airlines that later metamorphosed into NICON Airways, might happen to them.
But Ibrahim, told our correspondent on the telephone that the workers needed not worry because going by the expansion plan of the carrier, more workers would still be needed.
'Sack! I don't think so. We will need more workers. Tell the workers that asked you to ask me that question that they should not to be worry. Extend my compliments to them. there is nothing like that.' He said
Meanwhile, our correspondent gathered that the managing Director of Nigerian Eagle Airline, Captain Dapo Olumide was already planning to leave the airline for reasons he said was to him.
Efforts to get him reacted to this was not possible as his mobile phones were switched off.
Meanwhile, the Managing Director of Belujane Konzult, Mr. Chris Aligbe, told reporters on Monday that prior to the acquisition of the airline by Ibrahim Olumide and his team had tried to rescue from its heavy indebtedness but the situation was very bad.
The airline reportedly owed about $250m.
However, on the palpable fear over the possible sack he said, 'He is a businessman, even if the money fell from the skies to him as manna from heaven, I am sure that he does not intend to throw it away; that is mine own submission, I may be wrong. I will be shocked if I find that I am wrong. I think that having invested, his sole business is to have an airline functioning and coming back after the EAS debacle, coming back to buy over another airline, airline that is major; I think it shows that he has an intention to own an airline that will work, but what people are afraid of is that he does not stand on the wrong footing'