RESIDENT DOCTORS SHELVE NATIONWIDE STRIKE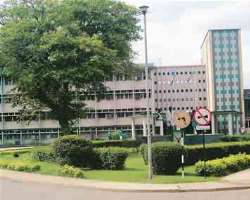 Lagos University Teaching Hospital, Idi-Araba (LUTH)
National Association of Resident Doctors of Nigeria on Monday shelved its nationwide strike.
The resident doctors had embarked on the strike to draw the attention of the Federal Government to the deteriorating state of the health sector and low morale of doctors.
Announcing the suspension at a press conference in Ibadan National President of the association, Dr. Olayinka Atilola, said that the strike was suspended to create room for further dialogue with the Federal Government.
A prepared text by Atilola and the Secretary-General of the association, Dr. Timothy Aladelusi, said the suspension would take effect from Tuesday (today).
The officials said that the National Executive Council of the association directed that the action be suspended following a fruitful negotiation with the Minister of State for Health, Alhaji Suleiman Bello, last Saturday.
He said that the association had secured a letter of commitment from the government, which was signed the minister, to urgently set up a committee that would look into the contentious issue of residency training.
Atilola was also optimistic that the ministry was sincere in its avowed pledge to make adequate and definite budgetary provision for residency programme in next year's budget.
After a number of warning strikes, the association had on April 15 embarked on an indefinite strike to compel the FG to accede to its demands, chief among which was repositioning and funding of residency training.
Also, the association asked for relativity between
the remuneration of doctors and other health workers within the sector, which would make the package of doctors to be superior.
The association had also frowned on the failure of the government to implement the approved Consolidated Medical Salary Scale since January, in line with the agreement reached with it last year.
Atilola said that the two factions of the association met with Bello and the Minister of Special Duties, Navy Captain Omoniyi Olubolade, and decided to close ranks for NARDN.
He said, 'The strike embarked upon by the association on April 15, 2010 is hereby suspended. This is in honour and respect for all parties involved in the statement of commitment given by government.'
'It is our belief that negotiations will still continue with government, and that when the NEC of the association meets in the next
30 days, government would have met the first phase of our demands.
'Namely: that a high-power committee to review the structure and funding of residency training programme, as well as relativity in
remuneration and other grey areas in the new salary structure, would have been met.'