HALLIBURTON: ETIEBET DENIES INVOLVEMENT IN SCANDAL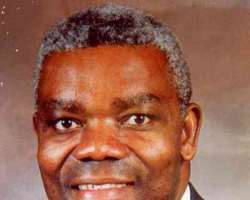 Former Minister of Petroleum Resources, Chief Don Etiebet
A former Minister of Petroleum Resources, Chief Don Etiebet, on Monday denied any involvement in the Halliburton contract scandal, in which it was alleged that he, among others, received $50m from the American oil company.
A national newspaper (not THE PUNCH) had on April 21, 2010, reported that a former Head of State, Gen. Abdulsalami Abubakar (rtd); his Minister of Petroleum, Etiebet; a former Chairman of the Transition Committee in his government, Ibrahim Aliyu; and Nasir Ado Bayero received $50m from Halliburton.
The report further said that the amount was separate from the $43m allegedly collected by the late Head of State, Sani Abacha; his Petroleum Minister, Chief Dan Etete; and former Inspector General of Police, Mr. Muhammed Yusuf.
It disclosed that the figures were documented in the interim report of the panel set up by President Umaru Yar'Adua to investigate the pay offs between 1995 and 2004.
But Etiebet, at a press briefing in Lagos, said he did not collect any money either directly or indirectly from Halliburton.
Giving further analysis of the scenario, Etiebet said in the first instance, he was not a minister under Abudusalami, adding that he was Secretary of the Ministry of Petroleum Resources during the Interim National Government of Chief Ernest Shonekan between August and November 1993 before becoming the man in charge of the company from November 1993 to February 1995 under Abacha.
According to him, the report by the newspaper purported to have been extracted from the panel set up by Yar'Adua to investigate the Halliburton contract scandal was untrue.
He said, 'I hereby deny that report and state categorically that I did not collect any money from Halliburton either directly or indirectly. Nobody gave me money and nobody discussed any alleged indictment with me.
'This whole thing about the Halliburton scandal started in 1994 and nowhere all over the world has my name been mentioned as being linked to it. Other names might have been mentioned, but definitely not mine.
'Since February 1995 when Abacha dissolved the then cabinet, I have not had any appointment. It was after my tenure that Chief Dan Etete came in. And during Abdusalami's military regime there was not minister of petroleum, he only had a special adviser and I was not the one.'
Etiebet further said that the alleged report was not true because when he was invited by the panel headed by the former Inspector-General of Police, Mr. Mike Okiro, none of the members of the panel asked him if he received any money from Halliburton.
He stated that he responded to the panel's request to assist in the investigation following a letter that was sent to him and signed by a Commissioner of Police, Mr. A. Amodu, on May 21, 2009, adding that his appearance before the panel on May 25, 2009 was to assist in clearing issues.
'At no point during my interrogation did they ask me if I collected any money and I answered all the questions they asked me. At the end of the interrogation, the panel asked me to put down my response in writing, which I rightly did and submitted to them,' he said.
The former petroleum minister lamented that the media report had caused incalculable damages to his person, adding that he was proceeding to the force headquarters in Abuja to make further enquiries on the alleged panel report.