EX-N'ASSEMBLY MEMBERS REJECT SUSPENSION OF NNAMANI, OTHERS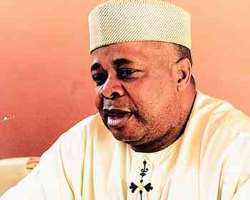 Former Senate president, Chief Ken Nnamani
The Forum of Former National Assembly Members (House of Representatives) has rejected the suspension of two former Senate presidents, Chief Ken Nnamani and Chief Adolphus Wabara; and 18 members of the Peoples Democratic Party by the party's National Working Committee.
The forum, which said this in a statement by its Chairman, Musa Elayo, and Secretary, Emeka Nwajiuba, described the suspension of the 19 members, for belonging to the PDP Reform Group, as untenable.
The former lawmakers said this just as Senator Dahiru Kuta, described the alleged plan to remove the PDP chairman, Chief Vincent Ogbulafor, as ill-timed.
The former lawmakers said that due process was not followed by the party's leadership in carrying out the suspension, as stipulated in Section 21.4 of the PDP constitution.
It noted that in this case, while no preliminary hearing was held, the NWC went ahead to suspend the members for not appearing before it; 'a pedestrian offence which is not known to the party's constitution.'
The forum said the suspension order could not therefore be justified, going by the spirit and letters of Section 21.6 of the PDP constitution, which states in part, '…A decision taken against a member who has not been informed of the charges against him or her or has not been given any opportunity of defending himself or herself shall be null and void.'
But faulting the bid to remove Ogbulafor, Kuta told the News Agency of Nigeria that the PDP was approaching a crucial period as the 2011 elections were one year away.
'The planned removal of the chairman is inappropriate as it will negate the progress of the party,' Kuta said.
Meanwhile, a former Deputy Speaker of the House of Representatives, Chibudom Nwuche, has called on the party's leadership to exhibit understanding in resolving issues raised by the PDP Reform Group.
Nwuche, said in a statement in Abuja on Monday that he expected the party's leadership to exhibit maturity and understanding in resolving the issues raised by the group, noting that members of the group are influential party faithful, with genuine concern for the welfare and continued relevance of the PDP in the polity.
Nwuche advised that rather than castigate or sanction members of the group, the PDP leadership should look carefully into the issues raised by them, in order to deepen internal party democracy and ensure cohesion and continued electoral success.
The former lawmaker said this approach was especially necessary, in view of the 2011 elections. He also said the party was expected to offer a platform to progressive and Nigerians to foster national political growth as well economic and social emancipation.
'The party must exhibit tolerance for diverse views and also live up to its name – the Peoples Democratic Party – which is an embodiment of internal party democracy and respect for freedom of expression,' he declared.