Ayodele Fayose Vs Ayodele Dada: It Is Better Late Than Never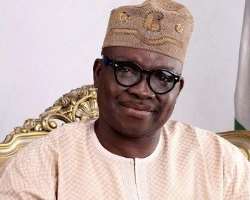 This is to draw attention of Governor Peter Ayodele Fayose to a colossal neglect of an academic excellence icon called Daniel Dada Ayodele by his administration. A Nigerian Daniel with an excellent spirit from Ekiti State recently made our nation proud by graduating with a CGPA of 5.0 from Department of Psychology, University of Lagos.
If Mr President is turning blind eyes in celebrating this record breaker and maker of academia, Mr Fayose should not do because he doesn't travel out like the former. Dada Ayodele has re-echoed to our ears that Ekiti State is truly a fountain of knowledge in Nigeria. Ekiti people and book are like fish and water as age will never limit them to study to any length. I could remember few years back when Ekiti men were Vice Chancellors of about five universities at the same period in this nation. History will not forget Sam Aluko, the great Economist, Tunde Adeniran, Oyebode of Unilag, Afe Babalola and other icons.
Just like other writers have opined on this issue, if Dada's exploit was from entertainment or sport arena, the whole nation would have spread red carpet. Social Media warriors would have dedicated weeks for different hashtags and pictures to Dada. Telecoms companies who have made him ambassador. But thanks to MTN, UNILAG Alumni and others that rewarded Dada's academic exploit. Also, thanks to the five companies that offered him jobs. Nevertheless, these accolades and prizes will be incomplete without Ekiti State Government's input.
If this great feat was made in developed nations, Dada would have become an idol and many avenues to make him grow to his full potential would have been made available. They would have outlined how they will tap into this unusual brilliant box for their countries development and growth.
However, if Mr Peter Fayose will not deem it fit to host Dada in a red carpet party and give him gift, the great men and women from Ekiti should do this in no distance time. If Mr Fayose is not ready for it, Ekiti State Students Union and National Association of Nigerian Students, Ekiti State Chapter should bring all the Kabiyesi in Ekiti State together to shower blessings on this young man of excellence.
If Mr One man-opposition could compensate political loyalist with a car gift, Hon Gbenga Akanni who suffered ordeal in the hand of DauraSS then Dada deserves better for this great feat.
Yoruba will say your daughter cannot have a wide waist and you will put beads on waist of another man's daughter.
Dada has made Ekiti, Nigeria, and the whole black race proud.
Ayodele Fayose should reward Daniel Dada Ayodele. It is better late than never.
Ifedayo Obi,
(Lead Partner of Good Governance Advocates) You can follow me on twitter @IfedayoObi
Disclaimer:

"The views/contents expressed in this article are the sole responsibility of the author(s) and do not necessarily reflect those of The Nigerian Voice. The Nigerian Voice will not be responsible or liable for any inaccurate or incorrect statements contained in this article."