Rivers re-run election: How Army, security agents caused mayhem, by Gov Wike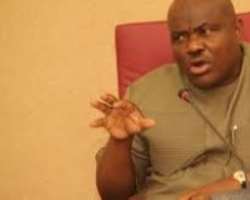 Governor Nyesom Wike, in this interview, speaks on the battle for Rivers State.  Wike alleges that the Independent National Electoral Commission (INEC) and the security services worked against his party, the PDP, in recent rerun polls into the National and state assemblies. It is reported that there was an incident at Mile One Police Station between you, the police and the military.  Can you throw some light on the incident?.
I was sleeping when  I got a text that one of the candidates of my party, a former member of the House of Representatives, who was also a candidate in the re-run polls, Blessing Nseigbe, had been abducted and was at Mile One Police Station. I said it was not possible because I saw her the previous night with the leader of the party in Port Harcourt. In fact, most of my workers had not even come to work because they closed very late the night before. So, I decided to drive down to see what happened.  When  I got there, she was there actually and they said she was upstairs. So, I went upstairs and asked about what happened.
She told me there was a collation officer they had been looking for all through the night. But that they got information in the morning that the woman was at the Mile One Police Station; so they decided to find out what actually took place . People were collating  election result at  Saint Andrew's School, but  they could not find the Ward 10 Collation Officer.  As she was asking them the whereabouts of the collation officer, the police told her to go upstairs. She said why. They said she must come upstairs. Then before she knew what was happening, soldiers had surrounded the place.  I suspected that was why they had to send me that text.
So, when I got there, I saw the soldiers. I asked what the problem was, and they said  they got information that people had been attacked at the Mile One Police Station. I said  that  if people had been attacked, was it  soldiers that will come into the police station? So, I went upstairs  and  they now brought the woman, the collation officer. I asked her what  the problem was. She said as they were coming out from the INEC office, somebody told her that a person wanted to give her a ride, but she said they were many, that she had to join her group. But the person who wanted to give the ride said  it didn't matter. So, she now entered the vehicle. As she entered the vehicle, the person was no longer going to the collation. He diverted and then they told her to switch off her phone. I now asked her: How could somebody give you a ride when INEC had provided a bus for all of you to go  to the collation centre?  Assuming now it is true she was  kidnapped, people will now say it happened in Port Harcourt, they kidnapped an Electoral Officer. I think they  organized this kidnapping. So where was the result sheet? She said  the police took it and this and that.
So, I called the AIG  in charge of the election. Then, some APC people came. I made my report and I think they took the woman to the state  police headquarters for further interrogation. But we discovered that  the woman is the girl friend of an  APC  House of Representatives candidate. So, if  at all it was kidnapping, it   was masterminded by the candidate. And she had already prepared a result in the spread sheet without the unit ward results collated. You did say that, from what you saw in the field, INEC was not prepared for the elections. Having finished the elections, do you   have a change   of mind? And how did your party fare in the elections? Rivers State Governor, Nyesom Ezenwo Wike As early as 9 a.m, on the election day, I was getting calls from local government areas.
I got a call from Bonny Local Government Area that the result sheets they brought to them were not original.   I said, 'how do you know the original result?'   They said the one they saw for the Senate was different, that you could   see the coat of arms, the one for the House of Assembly, you could   see the coat of arms, but the one for the House of Representatives, there was nothing and it was not even signed.   I said they should hold on to enable me get to the REC. I got the REC on phone and told him about the complaint. He said the problem he was having was that he told the electoral officers to countersign results  that did not have  codes or whatever to make them look like original.   So the problem he had  was that most of them did not sign. I told him  there had been suspicion that results would be swapped, and that what he should  have done, knowing that he had this problem, was not only to tell  the EOs but also to tell the agents of the parties   at   the state   headquarters so that they can now communicate to their parties' supporters at the various local governments.   As things are now, it will be difficult for you to convey that message. So, already there had been suspicions, people accused   INEC of appointing ad-hoc staff who are   members of a political party and that they have it on authority that people were getting result sheets and would be swapped, so that  created  crisis.   That is what happened in most of the LGAs.
But before we reached a conclusion to tell the other LGAs to go ahead with the election, some of them had decided that they could not  continue with the election. It was too late.   It happened in my own LG. In the Senate segment of the rerun polls, we had original result sheets; House of Assembly, original, but House of Representatives, it was like fake.   So, I said, "Okay, I am from this local government, do the election, let me see how they will bring the original that they want'. So, so many local governments agreed and   went on.   Some, before they could settle, it was late.
In Andoni Local Government, that was also the issue. It also   happened in Gokana and Khana.   It was this issue of result sheet.   So, by the time they made up their mind, it was 3pm and  election ought to have been conducted by 2pm, so by 3pm, they said lit was not possible to do the  election. I had warned that today's Nigeria is not yesterday's Nigeria. There were things done in a wrong way yesterday. Does not mean it will continuously happen? Time will come when people will say this cannot continue to happen. I warned that nobody should make an attempt to rig the election, that people will resist it and, in resisting, it could lead to a lot of things. I also  said the military should not play a role in the  polling and collation . Recall   that I said that Ogoni is a sensitive area when it has to do with the military. What happened?  I was the one who called the Brigade   Commander that I heard that   there were problems in Gokana and Khana and even in Tai.  I can send my Commissioner for Information on errand. But the commissioner  could go beyond what I   sent him. Sometimes, the leadership of the military can send people  for an operation and tell them to make sure things are done properly.
But there could be some over zealous people who will go beyond that and, in doing that, crisis may ensue. So, when soldiers  went to Khana, instead of supporting the police to make sure polling materials get to the various polling units, they said no agents should be there. How can there be no agent  when you are moving materials? The rule is clear, before materials are sent out, agents of various political parties must be there. So, why do you now come to say no agent should be there. Who are you favouring? So the people said it will not happen, that they must be there. My Commissioner for the Environment, Professor Roseline Konya, went there to say this was not the way to do it, that our agents must be where the materials were, so that they will see what they were sending out and follow the materials to the various polling units. They manhandled the commissioner, a woman for   that matter. So, women now came out to say how could the soldiers manhandle a mother, merely because she said things should be done properly? And, of course, some youths said they couldn't take it. That was in Khana. In Tai, some military men, whether they were fake or original, acted illegally. In our Security Council meeting, we agreed that they would be given tags. Anybody without that tag is not a real military person. So, the materials that were in the RAC centre, the military now came in a bus and commanded the corps members, presiding officers to enter the bus, took the materials, but our agents were supposed to be in that bus.
The soldiers said the party agents must not be there. But instead of taking the materials to the various polling units, they diverted  to a House of Representatives candidate. So, as our agents followed the bus, the soldiers shot at them, two persons died. So, when people talk about violence,  nobody wants to ask how the military killed  those two people in Tai. As the elections went on, my Chief of Staff  called to say they shot his PA. The gubernatorial candidate of APC, Dakuku Peterside, and his deputy went  to Ikwerre Local Government collation centre, with military and police officers. They are neither from Ikwerre Local Government  nor from that senatorial district. But they went there and  allegedly hijacked the Electoral Officer (EO)and the result and put them in an armoured vehicle. I called the Brigade  Commander  to tell him what I heard. He told me that his Commanding Officer deployed some of his men to protect Dakuku, his deputy and the EO and take them to Port Harcourt. I told him I didn't believe him. Within ten minutes, I was called from  the Airport Junction  to be told that the military men there retreated and then gave opportunity to the  security men with Dakuku and the rest of them  to  start firing. In fact,  a  House of Assembly candidate Azubuike Nwajoku took his own bulletproof car to hit the vehicle of the EO and pushed him to the bush. They were able to take the spread sheet result of the Emohua Local Government. The men now ran to the bush and they were firing. Why are we saying this? When I see people making comments from one side, you don't even ask questions. Now, my Chief of Staff pursued Dakuku and co to the UTC  area, close to the DSS office. They shot his driver and PA.
I sent my security aides  to the DSS Headquarters and called the Director but he said they were attacking his office. A governorship  candidate, because his master lost in his LGA, they were making trouble. They are too desperate. But it will come to a time when the people will say enough is enough.  We can't continue this way. When I voted, you were there, I commended the security arrangement. Why did I commend them?  Because when we had Security Council meeting, they told me that security will be beefed up every where. And security was actually beefed up. But when we say 10  people died, 20 people must have died. Did you get to the families to know if they lost somebody? Sometimes, it is good to go beyond and find out. I have told you that  soldiers shot two people in Tai, and  that no result went to the collation centre.
If they had gone to the polling unit to  hijack, it is a different thing. Is that how things are supposed to be done? Throughout my political career, I have never seen the level of involvement of military like it took place in the rerun polls. What I thought would have been the function of the military was to  provide security at strategic locations, know where criminals can come in from, know where they can go, so that we would not have any attack and, luckily, you can attest to the fact that, in Port Harcourt, Obio/Akpor, apart from somebody who   was shot at Rumuokwuta Junction,. what happened? The police at Rumuokwuta  Junction, said there was a woman who was driving by   and they stopped her. The woman refused to stop. There  is a polling unit on the road there. The shots now hit a  boy and the policemen  immediately left that junction. Ask the DPO of Rumuoprikon Police Station.
How was my Secretary to Government arrested? He is the Secretary of Security Council meetings which  the Brigade Commander attends, Airforce Commander attends; DSS Director and the CP also attend. So, he relates with the security agencies. All logistics to all the security agencies pass through the office of the SSG. So it's not as if they don't know him. What happened? Magnus Abe is from his local government, so you expect that there would   be some kind of challenge, but he said he wouldn't allow electoral materials to leave  and the military people said no, the materials must leave. Without respect, they took him and put him in  an  armored personnel carrier. I said I won't call anybody, I won't even talk to them, whatever they wanted to do with him  was their business. But what I know in life, freedom does not come easy, you must make sacrifices. What is happening in Rivers State today is not the amount of propaganda. I have told people they cannot rig election where they are not popular. If you try to  rig election where  you are not popular, that is the resistance you are seeing. When we were in power at the centre, they said we had  federal might, we had the army, we had the police, we had INEC. They have the INEC, they have the police, they have  the army, which one do we have now? We have only the people that will resist rigging. Security I worked tirelessly to see how we could  improve security. It had  nothing to do with politics. I have given the security agencies support all the way. I don't appoint the CP here, I don't appoint the Director of DSS, I don't appoint the Brigade Commander.
They have changed my CP three times; when the CP is trying to work with the government, they will call the  IG to say the  CP is working with the governor, remove him and the IG will  remove that one. They will bring another one. That one will now stay to study the security situation in the state and start to plan;  and in planning he needs the support of the state government. There is no way any police can work without the support of the state government. The army, the  DSS, we give logistics. It is   not a personal thing, it is the state government. So when that one is trying to settle down and they tell that one to arrest everybody that they think has something to do in his local government, and if that one does not arrest, they change that one.
DSS, they change that one. This one just came, they removed the other one. So, in terms of security, how do you organize it? So who will you now say is causing all these security problems, when a CP cannot stay and strategise, when a Director of DSS cannot stay and strategise on how to tackle the issue of security? How do you rate your party's performance in the elections? Since the courts annulled the elections  in December, we had started preparing for the rerun. Like I have always said, a good  candidate does not prepare a day to the election, I mean  the rerun.   A good student starts from when the class starts. So, when  the Court of Appeal annulled the elections, we met and  started preparing, but those in the opposition APC  were waiting because they have, according to them,  the federal might. We went to the grassroots and  charged our people  to  protect and defend our votes. So  we  never had any doubt  we  were going to win the elections.
Source: Vanguard