Ubi Franklin Admits He was Once a PA to Julius Agwu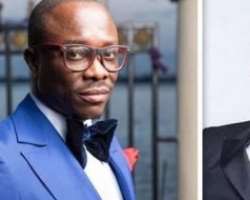 There is a saying that humility pays in whatever one does and that is what has played out for Tripple MG boss, Ubi Frankin, who recently made a public confession on his journey to life.
Ubi who recently wished the wife of comedian, Julius Agwu, Ebiere, a happy birthday, recalled how nice she has always been to people around her husband.
He stated that during the time he worked with Julius as his personal assistant, Ebiere has really shown that she is a wife material as she ensures that they all eat before setting out to hustle.
In his words, "So A few years Ago I used to be PA to her Husband Julius Agwu Always very quite and homely, Thanks for all The Good Food before We Head out To Hustle. As you turn a year Older today May The mercy Of God Be with you. Amen."