REDROW PROFIT FORECAST SENDS HOUSEBUILDERS HIGHER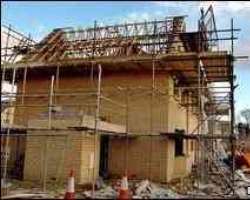 Housebuilding stocks have risen after Redrow said it would return to profit in the first six months of 2010.
The firm said it had been "encouraged by sales activity" since the start of the year, which was "comfortably ahead" of the same period in 2009.
Redrow shares had risen 1.5% by early afternoon trading, while rival Barratt Developments had climbed 4.3%.
Shares in two more of the UK's biggest housebuilders – Bellway and Persimmon – had also gained about 2%.
REDROW
Last updated: 26 Apr 2010, 14:55 UK
*Chart shows local time
price change %
151.00p -0.10 -0.07
More data on this share price
"We expect to legally complete in excess of 2,500 homes for the full year, which will result in a return to profitability for the second half period," Redrow said.
The firm added that its average selling price of private homes had increased compared with both a year earlier and with the first half of this financial year.
In the year to the end of June last year, Redrow suffered its worst set of annual results, reporting a pre-tax loss of £140.8m.
Other housebuilders also reported heavy losses as the property market slumped during the downturn.