Dangote Group to end fuel scarcity with $14b refinery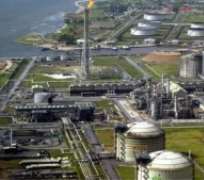 The Dangote Group is bringing respite to Nigerians who is fast becoming acquainted with the ordeal of spending hours in search of petrol in a country, which is one of the world's top producers of the crude oil.
The Executive Director, Stakeholder Management and Corporate Communications, Dangote Group, Mr. Mansur Ahmed, said that multinational corporation owned by Africa's richest man, Aliko Dangote,  will be bring to an end the incessant fuel crisis with its ongoing construction of world largest refinery
He said  that when the plant is fully constructed it will serve a purpose of easing the pain of fuel scarcity in the country.
Mansur, who spoke Thursday in Abuja, said  the refinery when ready,  will transform Nigeria from a fuel importing country to an exporting country.
"That plant itself is the largest single refinery plant anywhere in the world. In addition to the refinery, we are also going to produce some petrochemical products from the same complex. These are polyethylene and polypropylene,"
He said the petrochemical plant, which covers 250,000 hectares of land and is located in the Lekki Free Trade Zone in Lagos, would gulp $14bn, with capacity to refine 650 million barrels of crude oil a day.
The executive director urged the government to deregulate the downstream sector so that investors could play in an open market.
 "One would prefer if it was deregulated so that we know that we are playing in the open market. The key issue is that if I buy crude, whether from Nigeria or anywhere else, I buy at an international price. If I produce a product and want to sell, I should sell that product at an international price.
"So, I will not be affected by the decision of local pricing; it is on that concept that we went into refining. We expect that we will buy our input, especially crude, for international market price, and that when we produce products, we will sell those products at international prices.
"The refining industry is a global industry; if you use those international benchmarks, you shouldn't really worry about the price. It is about time Nigeria completely deregulated the downstream industry. The kind of reason that has compelled the government to fix petroleum product prices has not been tenable." he said