The Grind Ft 2Jay x Back 2 Back Ft Challex D Boss x Baby Mi Ft Shadow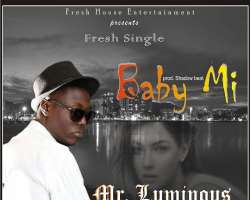 Song Artiste: Mr Luminous
Producer: ShadowBeats
Genre: HighLife, AfroBeat
Twitter Handle: @LuminousEkeng
Consistency has been attached to his name,Credits to his hardwork in the music industry in Just a short space of a year and half.
Mr Luminous is one of the most promising fast rising music sensation existing in Nigeria today.He's always dropped hits back to back without getting tired.
Just few months after the release of his first ever studio album in 2015, He decides to drop these three super dope hits off the high flying Genesis album just for your listening pleasure, I bet muzikfame on the fact that these songs will thrill you,No need beating much about the bush,Just hit the download buttons of each of the singles & enjoy.
All Songs Composed by Mr Luminous
All songs Produced BY ShadowBeats
for bookings & Live performance of these songs Reach Out:
08068093074
081646116593
DIRECT DOWNLOAD LINKS:
The Grind Ft 2Jay - http://goo.gl/MyRVrf
Back 2 Back Ft Challex D Boss - http://goo.gl/Q32oZ7
Baby Mi Ft Shadow - http://goo.gl/4J0liU
muzikfame.com
@muzikfame_com