Fear: Caroline Danjuma Almost Urinates on Her Flight Seat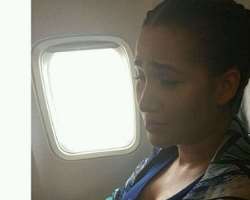 Nollywood actress, Caroline Danjuma, has just shown that if there is one weakness she has then it will be phobia for flying.
The actress, with her recent action as just revealed why she hardly travels around countries but rather concentrates on her business in Nigeria.
Caroline was on a flight and she decided to show how scared she was in the plane simply because she has phobia for flying just like some people do.
In her words, "My face before taking off, Flying phobia. I become a reverend on board. Can recite all the Bible passages."