Liz Da Silva is Living Fake Life?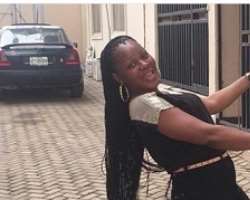 Yoruba actress, Liz Da Silva, has not gotten the positive admiration she thought she will get after she shared a picture of her newly purchased bag and shoes.
The actress sure has enough money to spend as she thought she bought a foreign bag and shoe which she could flaunt around as celeb despite the current rate of dollars.
She got slammed by fans after they allegedly detected that the shoe she was jumping around with happens to be fake and not the real brand as indicated.