PDP will produce Saraki's successor if he's removed —Nwaoboshi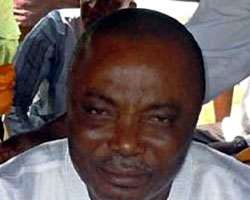 The Chairman, Senate Committee on Niger Delta Affairs, Senator Peter Nwaoboshi, PDP, Delta North, said yesterday that if President of the Senate, Senator Bukola Saraki, is removed from his present position by the Code of Conduct Tribunal, CCT, the opposition political party, Peoples Democratic Party, PDP, would produce his successor.
Nwaoboshi, who noted that Saraki had been obeying the court, said until he was proven guilty, no amount of blackmail would make senators elected on the platform of PDP shift ground and support for him.
'In any case, my party, the PDP, has resolved in our meeting to support him. So, there is no basis for him to resign,' he said.
Nwaobashi, former Delta State chairman of PDP, who spoke with journalists in Abuja, yesterday, described the present trial of Saraki as purely political.
He said:  'We only need three and we have it. The calculation is very clear to me. The calculation is very clear for PDP. We know what it will take us. When I told them that Saraki was going to win, I did a lot of mathematical calculations based on the facts on the ground and it is even clearer to me now that the PDP will win it.
'We will win it. If anybody is thinking that a PDP man is going to vote against a PDP candidate, he is telling you a lie. We have people and we know how to get the people from APC.
'We will win and that will be very interesting. What is happening in America is going to happen in Nigeria. America has a Republican Senate but the executive is led by Democrats. So, it's happening in different parts of the world. I can tell you with what's on the ground that we will produce the next Senate President.
'No amount of blackmail'll make us shift ground.'
On whether Saraki should resign as Senate President, Nwaoboshi said:   'I'm a lawyer, 27 years in the bar. He is not guilty. He has not been proven guilty. Let us first of all get to the point that he has been found guilty.
'The man has taken a plea of not guilty and the law is very clear. He's deemed not to be guilty until it is proven. It's a matter before the court. The prosecutor has the duty to prove his case before the onus will shift to him to defend.
'If the prosecutor doesn't have a case, then what is he defending? Take the example of Ndudi Elumelu; that was how they removed him as Chairman of Power Committee because he was taken to court. In the end, he was cleared.
'Look at the former Senate President, Senator Adolphus Wabara, he went to court. People were saying he is in court, that he should be removed. He resigned as a result of pressure from the public. He went to court and won.
'The other woman in the House of Representatives, former speaker, Patricia Etteh; in fact, the House changed its own position. But they had achieved what they wanted to achieve. There are so many examples like that.
'The man (Saraki) is going to court and he is obeying the court order. Until it is proven that he is guilty, no amount of blackmail will make us shift our ground and our support for him. In any case, my party, the PDP, we've resolved in our meeting to support him. So, there is no basis for him to resign.'
Asked whether Saraki should look at the soft landing option which looks like an olive branch, he said:  'What is soft landing? There is no soft landing. The case is on. Are they going to withdraw the case? Let him go through the distance and let us see who is right.'
Saraki's trial political
Senator Nwaoboshi, who noted that Senator Saraki's trial was purely political, said:  'You have seen it now. What is the intendment of an Act? Before he became a governor, he was supposed to make a declaration.'' Vanguard