My Husband Blast me for not kissing Well…Mercy Aigbe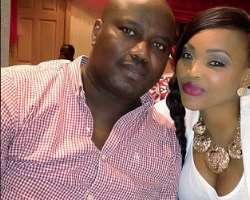 Nollywood actress, Mercy Aigbe, sure knows how to get people talking and she is not bothered about she is being perceived anyway.
The mother of two who aside her acting career and her business empire builds her life around her husband, Mr Gentry, has disclosed that her hubby puts her on blast for not kissing well in her movies.
She stated that her husband has been very supportive of her career and goes through her scripts before she heads to location with a good understanding that she will be spending couple of days outside the home.
"I was already an actress before I met my husband and he goes through my scripts. Sometimes, he chastises me for not kissing well in a movie. I could be on set for a week or more and he does not make an issue out of it. I know i married my friend and he is very understanding," she told Punch.