EgyptAir Hijack: Hostages flee pijacked Plane, suspect arrested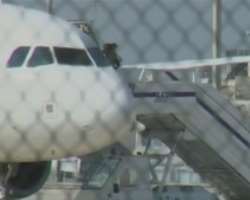 The man believed to be responsible for hijacking an Egyptian airline flight has been arrested, according to officials, after some of the remaining people aboard were seen today fleeing the plane, one through the cockpit window, on the tarmac at an airport in Cyprus.
The suspected hijacker of the EgyptAir flight that was diverted to Cyprus today had initially released all but seven passengers and members of the crew in what officials say was not terrorism but may have been motivated by a personal issue.
Negotiations were ongoing with the hijacker, Egyptian Civil Aviation Minister Sherif Fathy Ateyya said during a news conference today, as three people were later seen walking off the plane and a fourth climbing out the cockpit window.
The Foreign Ministry of Cyprus tweeted the name of the suspected hijacker as Seif Eldin Mustafa.
Officials had said before the standoff ended that the captain, his co-pilot, a flight attendant, security guard and three passengers were still on board.
The U.S. Embassy in Cyprus says it is looking into whether any U.S. citizens are involved.
Cyprus President Nicos Anastasiades said the incident was not terror-related.
"It's not something which has to do with terrorism," he said.
An EgyptAir official declared that flight 181 heading from Borg El-Arab Airport in Alexandria to Cairo Airport was diverted to Larnaca International Airport in Cyprus during the hijacking. The plane took off just before 6:30 a.m. local.
A statement from the Egyptian aviation authority said that flight 181 is an Airbus with 55 passengers aboard the flight in addition to crew members.
The aircraft landed safely at Larnaca at 7:50 a.m.
The first released passengers were seen coming down the stairs from the plane and boarding a bus on the runway to be taken to the terminal.
An official with the Civil Aviation Authority told ABC News that not all the passengers have been allowed to leave the plane.