POET PETER PORTER DIES AGED 81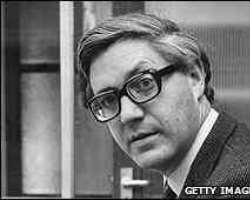 Peter Porter, a winner of both the Queen's Gold Medal for Poetry and the Forward Prize, has died at the age of 81 after being treated for cancer.
The Australian-born poet, who moved to England in 1951, worked as a bookseller while he developed his literary career.
His first collection, Once Bitten, Twice Bitten, was published in 1961.
He won the Forward Prize, the UK's biggest annual award, for Max Is Missing in 2002, the same year he was honoured with the Queen's Medal.
In 1968, he became a full-time poet, journalist, reviewer and broadcaster.
His 1978 anthology The Cost of Seriousness, written after the death of his first wife in 1974, was regarded by critics as his best.
His 2004 collection Afterburner was shortlisted for the TS Eliot prize, while last year's Better Than God was shortlisted for the 2009 Forward Prize.
Following his Forward Prize win, judge and National Poetry Day founder William Sieghart described Porter as "one of the most distinguished poets at work in Britain today".
Mr Sieghart described Max Is Missing as "contemporary, witty, urbane and vibrant".