Buhari, Fayose hail Tinubu as he turns 64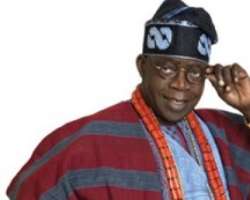 Prominent Nigerians including President Muhammadu Buhari have been showering encomiums on the National leader of the  All Progressives Congress,  Asiwaju Bola Ahmed Tinubu, as he turns turns 64 today.
Remarkably, his political foe, Governor Ayo Fayose was among those who described the acclaimed political strategist in superlative terms.
To mark the day, a one-day colloquium on agriculture will hold today in Abuja to explore the possibilities in that sector as Nigeria moves to expand its revenue base.
President Muhammadu Buhari this  his Special Adviser on Media and Publicity, Mr Femi Adesina, noted that Tinubu's rising political profile since he was elected senator in 1992 "is a testimony to his forthrightness, diligence and doggedness".
He said in a statement by Adesina that these qualities had also endeared him to the electorate and given him all-round success as a private sector worker, a businessman and two-term governor of Lagos State.
The President described Tinubu as one of the pillars of the APC, who successfully created a formidable opposition that worked vigorously within a short period to oust a party that had been in power for 16 years.
He praised the visionary leadership style of the Asiwaju of Lagos, who is also the Jagaban of Borgu Kingdom in Niger State.
The Speaker, House of Representatives, Mr. Yakubu Dogara, Governor Ayo Fayose of Ekiti State in their messages sent in on Monday  described Tinubu, as a pillar in Yorubaland and Nigeria as a whole.
A statement issued by the Chief Press Secretary to Fayose, Mr. Idowu Adelusi, said that the APC national leader had, over the years, proved to be a great political figure in the country.
"I heartily felicitate with Asiwaju Bola Ahmed Tinubu as he clocks 64 on March 29.
"Whether one likes it or not, Asiwaju Tinubu has become a political pillar and leader, not only in Yorubaland but in Nigeria.
"He is a great politician who takes well-calculated political steps. I and the good people of Ekiti State join millions of Nigerians and Asiwaju Tinubu's friends and supporters across the world to rejoice with him on this auspicious occasion.
"Asiwaju Tinubu is a good case study when one talks about political resilience and doggedness and no wonder he now ranks among the leaders of this great country.
"I pray that God gives him the grace to witness many more years in sound health in the land of the living," Fayose was quoted as saying in the statement.
Dogara also on Monday   in a statement by his Special Adviser on Media and Public Affairs, Mr. Turaki Hassan praised Tinubu, describing him as a 'formidable political force'.
According to him,  Tinubu's experience as a politician has  brought noticeable changes to the country.
The Speaker's goodwill messagereads in part, "On this joyous occasion of your birthday, we, in the House of Representatives, salute you, great leader, for the milestones you have attained in Nigeria.
"Your feats are bold and exceptional; from business to governance and politics. As a governor, you made sweeping reforms that till date, your successors are still building on and making Lagos State proud.
"In politics, you have been a formidable force, helping to put together a great political party that won power at the centre in Nigeria.
"You have proved to be a true hero of democracy, a light that cannot be concealed!
"As you mark yet another year, my prayer for you is that God will continue to consolidate your efforts and crown them all with success."