NDLEA arrests Lagos technician, Yunusa Amusan, over 'heroin'mail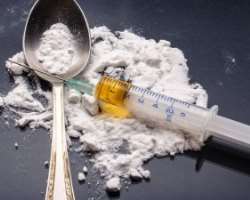 A Lagos-based technician, Yunusa Amusan, has been arrested in connection with 480 grammes of heroin reportedly sent to him from Bengaluru, India via an express mail service.
The drug was carefully packed inside a letter addressed to the suspect, who lives in the Mushin area of Lagos.
It was learnt that the drug was sent to him by his uncle.
PUNCH Metro gathered that operatives of the National Drug Law Enforcement Agency, after receiving a tip-off on Amusan's involvement, swooped on him. The heroin was intercepted after he had collected the mail at a post office in the state.
The 33-year-old Ogun State indigene, in his statement to the agency, admitted that the 'heroin letter' was sent to him, adding that he was paid by his uncle for helping him to "run errands."
He said, "I run errands for my uncle who lives in India. He used to send money and letters to me to give to his wives and friends. Sometimes, he would ask me to buy foodstuffs and send to him in India and in return, he would give me money to sustain myself. I am single and a native of Ogun State.
"The letter that my uncle sent to me was opened in my presence and other officers and it was found to contain heroin."
The Director of Operations and General Investigation of the NDLEA, Mr. Mabo Olugbenga, explained that the suspect was apprehended following a surveillance report. He added that Amusan was still under investigation and would subsequently be charged to court.
He said, "The illicit smuggling of narcotic drugs disguised as a letter was reported and closely monitored by the agency. It was confirmed that Mr. Yunusa Amusan was recruited by his uncle, who lives in India, to take delivery of the drug concealed in the letter to avoid arrest by law enforcement agents.
"Four hundred and eighty grammes of powdery substance that tested positive for heroin were found inside the letter. The thin parcels of heroin were carefully hidden in the letter in a manner that makes it difficult to detect. The suspect was arrested after collecting the letter and further investigation is ongoing."
The NDLEA Chairman, Col. Muhammad Abdallah, (retd.) said the agency would go after persons linked to the seized drug.
He said, "The operations of the agency have been diversified to cover mail services. Drug control is an intelligence-led operation and the NDLEA under my dispensation will spread its tentacles to all possible areas of narcotic smuggling. We will not relent in taking deliberate and sustained efforts to prevent drug trafficking under any guise in the country."
PUNCH