Nigerian politician/ legal icon Tunji Braithwaite dies at 82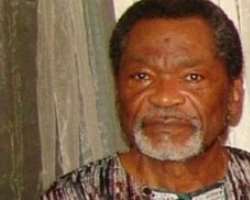 Renowned Nigerian Politician, Dr Tunji Braithwaite, is dead. He died on Monday at the age of  82.
His son, Olumide, said his father who was a legal icon and activist politician died after a brief illness.
According to his son, he fell ill in the early hours of Monday and was rushed to St Nicholas Hospital where he died at 5.55 am. Family sources said that  Dr Braithwaite fell from a thread mill a few weeks ago and had been ill since then.
The illness was said to have worsened Monday morning when he had breathing problems prompting his being rushed to the hospital, the source added.
His son Olumide is proud of his father's legacy and his contributions to Nigerian state.
"I believe if Nigeria has a minimum of 10 fearless personalities who are fighting for the masses like my father did all his life, Nigeria would have been a better country today. "My father stood for integrity, steadfastness, uprightness, courage, bravery and the voice for the masses of Nigeria. In his early 40's, he contested against the known names in the political annals of this country which include, Chief Obafemi Awolowo, the great Zik and Shehu Shagari. I can say without being immodest that his name also opened a lot of goodwill for the children and family anywhere we found ourselves,"  he said of his father.
Olumide added,  "Anybody who knows my father knew that he was an enigmatic personality and he had so much hope for this country and that was why he sacrificed all he had and was never seen being bought over throughout his entire struggles. His greatest regret in life was that after fighting all these battles, the masses in Nigeria are yet to be free and emancipated from the political shackles of this country."
The son was further quoted to have described his father as"a selfless lawyer who laid down his life for the nation."
According to him, "Where other politicians feared to tread, my father stormed. His style of politics was unique, he remained resolute and never waiver. He inspired Gani Fawehinmi in the legal profession."
"He taught us integrity, selflessness and he led by example. He was courageous, brave, upright and showed diligence in any anything he took part in.
"His death shocked the family and brought sadness to Nigeria, because that was his constituency. He would be greatly missed by the downtrodden whose cause he fought till he breathed his last. He left us a unique legacy, which the Braithwaite family will continue."
"He wished there was more people who shared his political ideals to truly change the country.
. Braithwaite had not completed the book he was writing on the politics of Second Republic, to capture the men and factors that shaped that era as well as the  politico-legal and social relations between him and the late sage, Chief Obafemi Awolowo. He made eradication of corruption (clearing rats, mosquitoes and cockroaches) the fulcrum of his presidential campaign in 1983 when he ran on the platform of the Nigeria Advance Party, which  he founded.
Born on September 13, 1933 as the youngest son of eight children, Braithwaite was educated at the C.M.S Grammar School, entering the school's Preparatory Section in 1946 and completing his education in 1953. He proceeded to sit for his A Levels at the London University at Kennington College in 1955 and enrolled in 1957/58 as a Law student at the Council of Legal Education, London. He was admitted into Lincoln's Inn that same year and graduated as a barrister in 1960.
As a lawyer, Braithwaite made his mark in company law. He was also one of the lawyers, who stood behind Chief Obafemi Awolowo during his travails in the early 60s.