Otunba Gbenga Otolorin Elegbeleye's 2016 Easter Message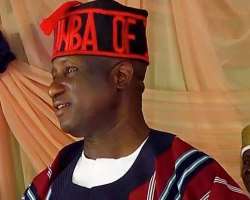 Whatever our faith, this long weekend is a time when many of us will get together with our family and friends to relax and unwind. It's also a good time to reflect that our country is one of the most successful multicultural societies in the world, it's that mutual respect that binds us together.
By the grace of God, our beloved nation, Nigeria will move forward despite all challenges. Let us all pray this Easter, that God Almighty, who has brought us this far, will continue to bless our nation as we march onward towards the fulfillment of our collective vision of a truly united, strong and prosperous nation. Happy Easter to you all.
Otunba Gbenga Otolorin Elegbeleye is an erudite citizen of Ondo State, a social crusader, Sports Ambassador, a firm believer in an egalitarian Ondo State and Ondo State PDP gubernatorial aspirant.