Aisha Buhari denies shoddy forex dealings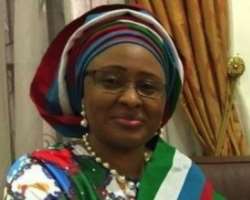 The first lady of Nigeria, Aisha Buhari has threatened a legal action against the Peoples Democratic Party (PDP) if it continues to peddle unfounded claims against her.
The PDP had ealier claimed that Aisha was a beneficiary of an $22million allocation from the Central Bank of Nigeria. "First Lady Aisha Buhari got $22m forex from CBN on the instructions of Emefiele (CBN Governor) and the company sold at N362 same day," the PDP tweeted.
Some important members of the President Buhari administration had at one time or the other suffered such claims by the party.
Garba Shehu was the first to come on the line of fire, accused of collecting $800,000. Lt. General Abdulrahman Dambazau was accused of collecting $6million via a bureau de change with ties to him and Chief of staff, Abba Kyari was also accused of collecting $400,000.
Aisha's company was accused of collecting $22million at the rate of N185 and then selling it off at N362 same day.
In the last of the accusations, the party claimed that in 7 months, President Buhari has withdrawn $23m forex from CBN for foreign travel expenses and estacode.
Aisha however replied the party Saturday night, threatening legal action.