CISLAC Urges the Federal Government to Make the PIB immediate Priority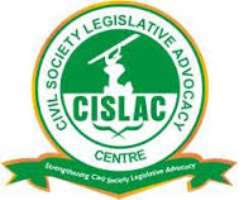 The Civil Society legislative Advocacy Centre, CISLAC urges the National Assembly and the Executive arm of Government to make the Petroleum Industry Governance and Institutional Framework Bill 2015 the next major legislation that enjoys consolidated attention for quick passage.
According to the statement Signed Executive Director, CISLAC, Auwal Ibrahim Musa (Rafsanjani), recalls that it was reported in the media in December of 2015 that the Federal Executive Council approved a draft of the Bill with a commitment to send it to the National Assembly in the first quarter of 2016.
According to Auwal,"we are also aware that the National Assembly has set up a Committee to work on a similar legislation with repeated promises form the NASS leadership to ensure quick passage and our feelers from engaging them is that the budget, understandably, demanded their full attention".
"We appreciate that the attention devoted the 2016 was necessary as the budget remains a most important law and economic tool for planning to ensure that our people enjoy governance and survive Delivery. Now that the 2016 budget has been passed by the National Assembly, we call on the Federal Government to prioritize the passage of this legislation that is meant sanitize the oil and gas sector".
CISLAC recalls that the Minister for State Petroleum Resources, Dr. Ibe Kachikwu, that Nigeria is losing $15 billion (N3 Trillion) annually due to non-passage of the Petroleum Industry Bill (PIB) into law.
"We note that despite the restructuring going on the in the NNPC, the fundamental surgery that is required for the sector to be effective and accountable can only be found with the passage of this law which has been elusive for the past 12 years".
"The recent confusion and hullaballoo around the restructuring or unbundling of the NNPC would not have occurred if the appropriate steps had been adopted. The present reforms in the sector are largely administrative and would be easy to reverse should appropriate legislative and institutional frameworks not be put in place. This is what the PIB represents".
"It is therefore not only logical but also natural that a government that seeks to sanitize that sector turns to ensure the quick passage of the law as a matter of urgency".
CISLAC calls on civil society, the media and all stakeholders to rally round and revive the campaign for the passage of this law.