Easter Message: It's Time to Re-awaken our Humanity – Obiano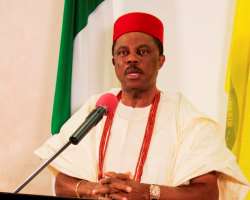 The Governor of Anambra State, Chief Willie Obiano has called on Christians across the world to seize the moment of deep reflection that the feast of Easter usually brings to reawaken their humanity and re-establish the presence of God in their lives.
In a Special Easter Message in Awka, Governor Obiano observed that the complex challenges that face modern Christians has seriously eroded the values that once sustained the essence of mankind and weakened the connection between many Christians and Jesus Christ and calls for rigorous self-interrogation and re-awakening.
According to him, "Easter is a period when Christians devote time to reflect on the salvific role of Jesus Christ in the life of mankind and resolve to walk the path of moral regeneration. This is made easier by the Lenten season which precedes Easter and prepares the church to enter the period of Grace that Easter offers. Our world is so troubled that many people across the globe have lost the very essence of their humanity. This Easter offers us a great chance to re-awaken our humanity and mend our ways with God."
Governor Obiano pointed at the growing sphere of terror across the world as a clear pointer to the increasing emergence of a troubled world and a disappearing sense of community that is plaguing mankind and urged Christians across the world not to yield to the temptation of ignoring the Biblical injunction of turning the other cheek.
Governor Obiano further observed that the challenge of retrieving a dying humanity is not a difficult exercise to Christians because Christ has paid the price and has risen from the dead. "So, His Resurrection gives us hope and courage to attempt what seems impossible. If Christ rose from the dead, then the least we can do is to rise above the growing hatred and touch one another with love," he maintained.
The governor bemoaned the global loss of innocence, pointing out that the growing insecurity across the world has led to the shrinking of freedoms. "We have regressed to the regime of terror. Fear hangs in the very air we breathe. This has dispossessed us of freedom. Any time a suicide bomb goes off in Nigeria or Belgium or France, we are reminded of the depletion of our human essence and the snapping of the moral rope. Happily, we have fought and won the battle of insecurity in Anambra State. So, our story is different here" he reasoned.
The governor called on Ndi Anambra to reach out and touch one another with love in the spirit of Easter and urged them to pray for their leaders always. He assured the people that the present economic difficulties would soon go away because the federal government had not relented in its efforts to give the economy an immediate turn around.