My family went through tough times, we killed lizards for food – Bank MD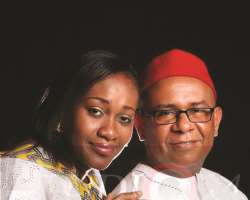 The indomitability of the human spirit best describes the story of Rogers Augustine Nwoke, Chief Executive Officer of Hasal Microfinance Bank. Born in the heat of the civil war, Rodgers grew up without a father. All he had was a mother who dared it all to make him what he is today.
From starting as a waiter at a hotel at the age of 15, he struggled against all the odds to become an alumnus of Frankfurt School of Finance and Management with Certifications in Micro and SME Finance.
He is also an alumnus of the Harvard Business School/Accion Programme of Strategic Leadership in Micro finance, Fellow of the Institute of Chartered Accountants of Nigeria; a senior member and Certified Micro finance Banker of the Chartered Institute of Bankers of Nigeria. Rodgers tells Stanley Nkwazema the story of a humble beginning when lizards served as a delicacy for his impoverished family, to life as a banker and today an entrepreneur who has hundreds of people on his payroll
The Struggling, Lizard Chasing Village Boy…
I was born about 48 years ago to the family of Michael Anukam Nwoke and Catherine Adanma Nwoke of Emebiam in what is now Owerri West Local Government Area of Imo state. Typically, I am a village boy. I grew up under very tough conditions. They said when it gets tough, the tough gets going. I am a very firm believer in destiny, in God and everything that he wants to do. I believe that God will always do what he says he will do. Being born just before the Civil War started and growing up as an infant during the war was a very difficult experience. Many people must have heard what was called Kwashiorkor but do not know what it means. Some of us suffered it. Kwashiorkor is the local name for malnutrition. Some of us had to be fed with lizards to be able to get some protein. It is an experience I will never forget. Today, when I see lizards running, I remember that they used to be good delicacy during the war. My father died when I was very young and I have never had the privilege of calling anybody daddy since I was born. My mother was equal to the task; she raised me as a single mother, putting together everything that she could do to bring me up. She did all kinds of difficult jobs, even jobs that were considered exclusive for men all to ensure that I went to school. God Almighty crowned the effort of my mother and provided help from special quarters in times of need. Today, when I look back, whatever I have become, it's only God that has made it possible.
In Search of Education: The Journey Within…
I started schooling at the Community School, Emeabiam. From there I wrote my Common Entrance exams and I had the privilege attending what was then J F Kennedy Secondary School in Obibiezena, Owerri North, but ended up in the pioneer class of Eziobodo Secondary Technical School still in Owerri West. It was a big struggle getting education at the local level with no science teachers, no laboratories and good facilities for educating children. Thanks to the NYSC programme which provided support.
I started my banking career in 1994, after my youth service, with now defunct Ivory Merchant Bank. Unfortunately, the owners of the bank could not recapitalise the bank and I had to leave for Diamond Bank where I had my early training as a core SME lender/banker. The last place I worked as an employee was Access Bank. I disengaged in 2008 at the level of Assistant General Manager to start what is today Hasal Bank.

As a founder and chief executive officer, microfinance became a passion I developed learning from my experience as an SME finance expert while in the banking industry. Before commencing work at Hasal, I had taken time off to do an MBA at the Warwick Business School, University of Warwick, England. I have attended several training both at the managerial strategic levels for both banking and micro finance. I am an Alumnus of Frankfurt School of Finance and Management with Certifications in Micro and SME Finance. I am an alumnus of the Harvard Business School/Accion Programme of Strategic Leadership in Micro Finance. I am a Fellow (FCA) of the Institute of Chartered Accountants of Nigeria (ICAN), a Senior Member (HCIB) and Certified Microfinance Banker (MCIB) of the Chartered Institute of Bankers of Nigeria.

Challenging Times, Lessons Learnt from Mother
My most challenging time was growing up without a father figure; somebody you could look up to. Someone to stand up and take responsibility as a man. However, it is also this challenge that helps shape you early in life, especially when you have to start quite early to provide for yourself and the rest of the family. But when you have a mother who is both a father and mother, a woman with a devotion to God coupled with strength, resilience, character and determination to confront her destiny, and then you have a chance to survive.

My mother was in all ramifications, what a mother should be. That time comes when you are driven from school for inability to pay school fees and you know your mother has drawn her last blood to find the school fees and she is not able to; what do you do? Frustration! When you see a big family of uncles and aunties and none can help you, what do you feel? Depressed! That secondary school age was the most challenging period when it was so difficult to feed, go to school; when you must take up very hard labour as a child just so you can survive but it was the period also when you are truly formed with the values that shape your future, and that's where my mother comes in for support. It was a period of learning how not to steal even if hunger was going to kill you; how you must learn to trust God who in his promises is the sustainability of the poor; how you must be mindful of people who will take advantage of you and your situation to lure you into acts that are capable of destroying you in life.

High Points and Hopelessness…
What I will describe as my first high point was passing the Common Entrance to attend secondary school. I have been described as a brilliant child, looking at my results and performance in primary school; the expectations were that this child was going to go far academically. After the Common Entrance examinations, everybody's result was released but I did not see my own. One day, the result came out and I had the opportunity of going to secondary school. I remember when we received the news of passing the Common Entrance, my mother was dancing and a woman said to her that it is not all about me passing the examinations, but would she be able to pay the school fees?. That spoilt the joy for my mother. I remember when I got my first job as a waiter in Concorde Hotel, going for interview with about 120 people, and emerging among the top three was another high point in my life that gave hope that there was a very beautiful path that lies ahead. Getting admission to study Accounting at the University of Nigeria, Nsukka was a beautiful expectation to become a professional.

When I finished my National Youth Service and got the opportunity to join Diamond Bank in 1995, it was an exciting experience because as at then, Diamond was one of the best institutions in the financial sector that everybody wanted to work with. Then came the high point of getting admission to study abroad. A child of a poor village woman who did not have a husband to help her and who struggled, suddenly you are flying abroad to do a Masters Degree programme. What crowns it all is having gone through all these period to be able to start a business as an entrepreneur. The starting and coming to stream of Hasal Micro Finance bank in October 2008 was the height of all expectations. That you have been able to put in time, learning banking, working for other people and you get to the point you are able to create something that today employs more than 400 hundred people and created more than 1000 jobs over the last eight years. We have been able to provide micro loans to more than 22,000 people over a period of seven years. When you look around, you will see that your creation is helping families feed, helping children go to school, helping businesses survive. What more can you ask for?

Elevation of Esusu and Micro Finance Banks…
Micro finance is not new to Africa. The traditional African system made provisions for associations where savings and thrift worked. Those were the oldest forms of micro finance as a way of life. Micro finance as we have it today is a formalised and institutionalised way of providing financial services to people at the bottom of the pyramid. It means reaching out to people who are excluded from the formal financial systems. It is an advanced form of the Esusu system which is one of the products of micro finance business. Micro finance goes beyond that. It covers the entire gamut of financial services as long as it is targeted at people at the low income levels. Banking and financial services as provided by the big banks when it is brought down to a microcosm and reduced to a target market that focuses only at the low income people.

Best Day of My Life….
I think the day I got married, February 16, 2002, has remained best of the memorable days. The Bible says that when God finished creating man, he saw incompleteness and decided to make a helper that is fit for him. I think it is equally true for any man who finds that help and I did find help having married Joyce Akpan and today Mrs. Joyce Rogers Nwoke, whom I have named Onyinyechinyere Rogers. The completeness you look for in a man becomes complete because I have been able to achieve much now compared to before marriage. Life is not complete without your other half. When you look at the responsibilities you have in keeping your home, your children, your business and other needs, to have a wife who helps you build the business and helps you build the home is a privilege and honour which I am very grateful. Marriage has brought a new phase into my growing up and with the kind of wife I married; I think I have come to that place where I wish I should have gotten married at 25 based on what I have seen today. I got married at 34. If I had married at 25, the kids will be getting ready to leave school. The earlier the better. Marriage is sweet and should be entered as soon as someone can afford to do so.

Meeting My Wife…
I am a student of the Bible, fascinated by the story of Abraham finding a wife for his son, Isaac, through Eleazar, the chief servant. I knew that choosing a wife was going to be a key success factor to what my life would be thereafter. As a Christian, I started early to pray for a wife and while in secondary school, I learnt about Isaac and Rebecca. That story of how a man can pray to God and set substantive evidence to proof his choice worked for me. When the time came, I asked God for very specific things about how I wanted to meet my wife, and it was so. We met in March 2000, dated for two years and got married in February 2002 when the aroma of Valentine's Day was still in the air.

And Mother Dies…
My mother lived a much fulfilled life and died at age 86. I would have wished my mother lived for 90 or 96years instead of 86 years but I am not the creator. God knows best. Why I wished my mother would have lived forever is that I have never considered myself to have done enough for her to thank her. Looking back to those days, seeing the pains and sometimes so difficult, you could see the tears in her eyes, going into the bush to clear farm lands, taking up labourer's jobs, all to survive. After God has brought you this far, you want to honour her, you want to nurse her forever.

In 2014, she had a mild stroke and did not come out of it. It was painful but with a lot of gratitude to God Almighty because it could have been worse or she could have died in those tough days but God kept her and strengthened her. No amount of those days' sufferings impacted her old age. She lived as a very strong woman and died not devastated by any particular ailment or disease that you could say was associated with her past or her old age. God gave her a good old age. It was painful seeing her go. I have also had sad periods when my two elder brothers died at different times and sometimes you feel lonely growing up living your life without your brothers. It is all good because at each of these times, God has always provided comfort.

Expectations for the Future…
When it is all over, let it be said undoubtedly that: 'He loved God. He Served Humanity. He created businesses. And He raised champions.' - Culled from Thisday.