The Sins Of Amaechi (I)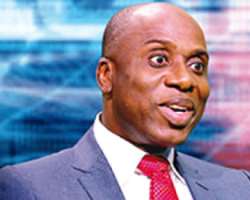 "I believe that there are parts to human nature that cannot be reached by either legislation or education, but require the power of God to deal with." - Stephen R. Covey
As a politician, one of the problems of Chibuike Rotimi Amaechi, was that he focused more on development and did not share free money (stomach infrastructure) with a clique of elites who see politics as a lifetime job. Hope for free lunch was shattered and then came their fury.
However, in the history of Rivers State, Amaechi is the only Governor who devised a means to legitimately throw millions of Naira into the pockets of Rivers indigenes. The present Minister of Transportation came on board with a phrase that has since become a model for empowerment in Rivers State: "Rivers money for Rivers people."
Since it wouldn't be fair to name scores of those who partook in this well managed welfare scheme, then I can boldy say that a magnitude of our people benefited in one way or the other from Amaechi's style of empowerment. In a first of its kind, the bold faced Ikwerre man, ensured that a high percentage of Rivers people were considered for contracts.
This advanced level of social engineering came to the limelight when the state government under his watch awarded contracts for the construction of hundreds of international-standard primary schools and well equipped health centres, to Rivers sons and daughters. You can take this to the bank.
Zenith Bank and others supervised the jobs, paid at milestones, and boom, a channel of treasure was opened up for my people. Rivers people smiled to the bank until they started breaching the terms of agreement. Some of them thought that it was still business as usual a la take money, do nothing, take money again, do nothing again, and nothing ever happens to you. Severe hatred for Amaechi took full swing when he activated the arrest and prosecution of defaulters. So many of them were forced to borrow money and complete their abandoned contracts.
Today, these model schools and health centres stand tall all over Rivers State as statutes of a fine thinker. In my view, leadership in Nigeria is almost a suicidal attempt, because often times, the very people that you set out to rescue, suddenly metamorphosize and become thorns in the flesh. In truth, Amaechi might have sinned against a cabal of greedy lots, but history holds him in high righteousness.
~ Solomon Okocha writes from Lagos, Nigeria.
Disclaimer:

"The views/contents expressed in this article are the sole responsibility of the author(s) and do not necessarily reflect those of The Nigerian Voice. The Nigerian Voice will not be responsible or liable for any inaccurate or incorrect statements contained in this article."