CONSUMERS, KEY TO ADVERTISING REGULATIONS –AKUNYILI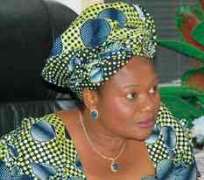 Akunyili.
Minister of Information and Communications, Prof. Dora Akunyili, has said that consumers are key to improving advertising regulations in Nigeria.
Akunyili said, 'Regardless of the interests of the stakeholders in the industry, the overriding consideration that should drive a desirable advertising regulatory policy is the interest of the consumers'.'
She said this while speaking on Friday during the 2010 advertising stakeholders' forum organised by the Advertising Practitioners Council of Nigeria in Lagos, titled, 'Advertising in Nigeria is under-regulated: True or False?'
She emphasised that, 'Under regulated is as bad as over-regulated because it is likely to cause chaos.'
She added that regulation was tasking because of certain contending and conflicting interests of the various stakeholders, noting that most of the people being regulated were either friend, business partner or family members of the regulator.
She pointed out that the Nigerian consumers were vulnerable, compared to their counterparts in more developed countries as they were not empowered to protect their rights from various forms of commercial abuse.