NCC to deploy more broadband facilities for e-Voting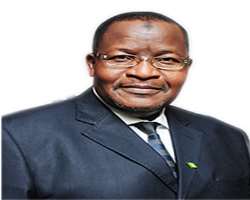 The Nigerian Communications (NCC) is to deploy more broadband facilities that will create the necessary environment for the adoption of electronic voting processes in the country.
The Executive Vice Chairman, NCC, Prof. Umar Danbatta, who stated this stated this at the 12th public lecture of The Electoral Institute (TEI), INEC, with the theme 'ICT and Electronic Voting: Issues and Challenges', said that the NCC was planning to deploy broadband facilities in virtually all major cities and rural areas of the country.
The NCC Vice Chairman said that the action was in-line with the country's National Broadband Plan.
He said that e-voting would not only improve on the efficacy and the confidence in the Nigeria's electoral process but would also translate into free, fair and credible elections.
Danbatta observed that the existing paper ballot system of voting was 'susceptible to human errors and influences.'
This according to him led INEC to the use of ICT platforms for biometric registration and authentication prior to voting during the 2015 election, 'which significantly improved the democratic process.'
'However, during these elections, card readers generally failed to verify fingerprints. This is attributed to the ICT platforms.
'To address this from our part, the NCC, We have rolled out eight points agenda. Significant is the provision of efficient/effective access to ICT platforms.
'These include facilitating Broadband Penetration; Improving Quality of Service and; Promoting ICT Innovation and investment Opportunities.
'The need to foster methods that will address problems in our voting system has led TEI to explore e-voting which depends on ICT platforms for its operations,' Danbatta said.
He said that the next general elections of the country would depend heavily on the infrastructure that NCC was putting in place.
He added that the infrastructure needed to support the adoption of electronic voting in Nigeria was at 'formatic stage.'
'That is why government is interested in deploying more and more infrastructure, including improving on what we have on ground.'
Speaking, Prof. Mahmood Yakubu, chairman of INEC, said it was commendable that African countries were adopting the use of technology to improve on their electoral processes.
Yakubu was represented by a National Commissioner of INEC, Hajia Amina Zakari, said this had reduced the level of tension and crisis in their elections.
'The use of technology had made elections more acceptable and reduced post election conflicts.
'However, if you are not careful in the use of technology, the process can be truncated.
'So we need to come to middle class and that called for a lecture like this to share experiences of other countries where ICT has been deployed successfully to improve on electoral processes.'
Yakubu was optimistic that the lecture would add value to the country's electoral process.