NASS slashes, passes 2016 budget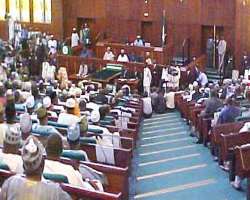 The National Assembly, yesterday, passed a N6.06 trillion 2016 budget into law, following a motion by the Chairman, Joint Committee on Appropriations, Senator Danjuma Goje, seconded by Senator Andy Uba, thus reducing the President's proposal by N17 billion. While the President proposed a budget of N6.07 trillion, the National Assembly reduces it to N6.06trillion.
The 2016 budget had been trailed by allegations of padding, which delayed its passage.
The highlights are as follows: N351bn for statutory transfers, N1.4trn for debt service, N2.6trn for recurrent expenditure, and N1.5trn as capital expenditure. The N17 billion reduction in the aggregate expenditure of the budget was taken from overhead votes component of the N2.65 trillion recurrent expenditure, which has now stands at N2.646 trillion.
N2.2 trillion fiscal deficit is retained. Also retained are the parameters of $38 per barrel oil price bench mark for the budget, 2.2million barrels of oil production per day, exchange rate of N197 to a US dollar and deficit GDP of 2.14 per cent.
Meanwhile, the Presidency said that the Executive was adequately involved in the resolution of controversy that arose from the budget before it was actually passed, just as it hailed the National Assembly for the passage.
In the approved budget, the National Assembly ensured  that only the N500billion Intervention fund was allowed to scale through untouched as other components in the budget were cut because it bordered on giving relief to the poor. President Muhammadu Buhari had on Tuesday, December 22, 2015, presented before a Joint Session of the National Assembly, a total budget estimate of N6, 077,680,000,000.
Of the total sum presented by Buhari, N351,270,000,000 is for statutory transfers, N1, 475,320,000,000 is for Debt Service, N2,648,600,000,000 is for recurrent(non-debt), while N1,845,540,000,000, inclusive of N157,150,000,000 Capital expenditure in Statutory Transfers and N86,000,000,000 as interest on Capitalised Loans, is for contribution to the Development Fund for Capital Expenditure for the year ending 31st day of December, 2016.
The National Assembly which observed that the budget was not presented in time, however, urged the federal government to submit the budget subsequently in strict compliance with the Fiscal Policy Act.
From the N351.370 billion approved for statutory transfers, National Assembly gets N115 billion; Universal Basic Education gets N77.110 billion; National Judicial Council gets N70 billion; the Independent National Electoral Commission, INEC, gets N45 billion; Niger Delta Development Commission, NDDC, gets N41.050 billion; Public Complaints Commission gets N2 billion, while National Human Rights Commission gets N1.210 billion.
Also captured in the budget are: N14,690,036,516 for Group life insurance for all MDAs, including DSS/insurance sensitive assets/corpers; N1 billion for armed forces enhanced retirement benefits of Commodores and above; N2.795 billion for severance benefits of Delta Steel company/Pension pay-off; N2,544,110,811 for military retirees NHIS; N36 million for Administration and monitoring of OHSCF Group Life; N200 million for Pension verification and administration; N2.3 billion for entitlements of former Presidents/Heads of State and Vice Presidents/Chief of General Staff and N1.5 billion for public service reforms (including payment of severance benefits of civil servants).
Out of N1,475,320,000,000 approved for Debt service, the sum of N1,307,400,000,000 is for Domestic Debts; N54.480 billion for Foreign Debts while N113.440 billion is for Sinking fund to retire maturing Loans.
From the N1,898,444,450,116 approved for Recurrent (non-debt expenditure), Interior gets highest allocation of N451,942,552,070; Education gets N367,734,727,223; Defence gets N312,213,355,618; Health, N221,412,548,087; Youth & Sports Development, N72,297,326,595; Petroleum Resources, N54,336,926,923; Foreign Affairs, N39,440,096,249; Information & Culture, N38,729,446,483; Works, Power & Housing, N422, 964,928,495; Agriculture, N29,632,584,416; while Science & Technology gets N25,554,038,310.
Presidency gets N21,676,277,888; NSA - N56,791,291,063; SGF - N45,890,745,817; Head of Civil Service of the Federation - N6,270,657,023; Justice - N17,389,782,636; Environment - N14,515,408,468; Transportation - N13,667,122,591; Water Resources - N7,219,056,441; Solid Minerals - N9,402,106,704; Industry, Trade & Investment - N10,410,294,458; Finance - N9,994,990,976; National Planning - N7,737,100,536; AGF - N2,480,584,708; Labour & Employment - N7,735,604,366; Niger Delta - N1,261,723,837; ICPC - N5,029,989,359; Communication & Technology - N9,885,909,120; ICRC - N838,569,623; FRC - N320,198,366; Special Duties SGF - N65,604,713; while Women Affairs gets N1,216,723,837.
According to the report on capital votes for Ministries, Departments and Agencies (MDAs), Federal Ministry of Works, Power and Housing gets the lion share of N422,964,928,495, followed by Transportation with N188,674,679,674; Defence, N130,864,439,542; Interior, N61,713,279,496; Agriculture, N46,173,963,859; Water Resources, N46,081,121,423; Education, N35,433,487,466; National Security Adviser, N32,084,085,624 and FCTA, N29,297,122,872.
The sum of N28,650,342,987 for Health; N27,006,179,073 for Science and Technology; N23,004,199,702 for Presidency; N20,319,288,049 for Secretary to the Government of the Federation; N19,440,328,551 for Niger Delta; N7,332,623,257 for Solid Minerals Development; N5,542,655,626 for Labour and Employment; N6,304,900,570 for Petroleum Resources; N5,992,735,230 for Communication Technology; N4,957,964,638 for Environment while N2,322,144,778 for Budget and National Planning.
The sum of N3,497,043,000 for Youth & Sports Development; N1,429,176,735 for office of the Head of Civil Service of the Federation; N2,293,528,977 for Women Affairs; N897,736,744 for Justice; N123,044,650 for Fiscal Responsibility Commission; N169,871,885 for National Salaries, Incomes and Wages Commission; N35.730 million for Infrastructure Concessionary Regulatory Commission; N317,509,819 for Auditor General of the Federation while N667,842,500 for Finance.
From the N1,173,407,694,354 approved for Executive (Federal Executive bodies), Code of Conduct gets N4,889,127,358; Code of Conduct Tribunal gets N1,055,560,066; Federal Character Commission gets N984,780,230; Federal Civil Service Commission gets N16,841,017; National Population Commission gets N4,411,606,590; Police Service Commission gets N269,628,000 while Revenue Mobilisation, Allocation and Fiscal Commission gets N19,883,417.
Also provided for in the budget are: N300 billion for special intervention (recurrent); N20 billion for amnesty programme, N8 billion for Lafiya Dole; N4 billion for IPPIS capturing; N1 billion for service wide training of budget/planning officers on GIFMIS budget preparation system as well as monitoring and evaluation of all projects nationwide; N2 billion for payment of outsourced services; N2.5 billion for provision of security equipment for selected public buildings; N4 billion for Employees Compensation Fund; N500 million for election logistics support; N12 billion for Pilgrims support services; N12 billion for contingency; N3,599,600,000 for margin for increases in costs and recurrent adjustment costs; N8.5 billion for external financial obligations; N3.5 billion for assessed contribution to African Union and others; N6 billion for contribution to international organizations including WAEC international; N33,597,400,000 for public service wage adjustment for MDAs (Inc!using arrears of promotion and salary increases); N3 billion for outstanding payments to health professionals; N13 billion for operations - internal for armed forces; N10.255 billion for Improved remuneration package for Nigerian Police including 2014 and 2015 shortfalls and N400 million for 35th annual general meeting and symposium of Shelter-Afrique in Nigeria in June 2016.
Presenting the report  at the plenary for consideration, Chairman, Senate Committee on Appropriation, Senator   Danjuma Goje, who noted that the budget was filled with controversy, said there were many lapses in the budget, adding that   if the senate had insisted on clearing the lapses, the committee would not have been able to meet up with the deadline of submission. The Senate said its approval of the 2016 fiscal document was due to its satisfaction that the country would benefit if it was passed into law.
He said: 'This budget is full of controversy and we did not want to have more controversy or else it wouldn't have been presented today and the National Assembly would be blamed.  The people would not understand it because people are even saying that we are playing politics.'
'This budget exercise was a follow-up negotiation, going forward and back. When the budget was presented as attested by many committees, there were strategies discovered that couldn't close the personnel cost in various committees and these were highlighted by various committees and the total amount involved was presented to the executive during the course of our interaction with the budget office.
'We presented that these are the shortfalls from personnel and other overhead cost which we believe should be taken care of. So, because this budget is full of controversies, we didn't want to add more controversy and if we added more controversy, the report wouldn't have been submitted today and the National Assembly would be blamed for delaying this budget. That is why we did everything possible to ensure that we beat the deadline in bringing it today.
'Nigerians may not understand this thing, they will say the National Assembly is playing politics with this budget and there is no politics in this budget. So, we do our best everything possible to ensure that we present our budget as implement able and suitable to Nigerians.
The National Assembly advised that there should be proper consultation between the budget office and the ministries, departments and agencies and requested the federal government to diversify its revenue base, and to shore up capital expenditure and reduce recurrent expenditure.  In his contribution before the    passage of the bill, Deputy Senate President,Uche Ekweremadu who noted that he    was conscious for the fact that it had earlier gone pass the second reading and 'so this is not open to debate, said, ' I will just like to make a very quick comment, so let me start by commending the chairman of the appropriation committee and its members as well as the chairmen of the various committees of the Senate for the very outstanding work they have done to get bthis budget up to this level which is now ready for passage today.
'I am a bit worried about the observation contained on page five, paragraph 5, it says 'the 2016 appropriation bill contained a number of omissions particularly in the area of personnel cost though the appropriation committees have filled some of the gaps and there are many outstanding cases which could raise serious concerns in the course of the year.
'The executive presented what we consider to be a proposal and so the ultimate responsibility for this budget rest on all members of the National Assembly. It may be a mistake on the part of the executive and I think it ends at the point they presented the budget.
'If anything happens after that and we passed the budget we cannot blame them any longer. I therefore I will like to know what this outstanding cases are because it appears that they are in relation to personnel cost, it could not be a good commentary on this Senate or the National Assembly but down the line during the year, we could discover that some of the people we are representing have not being paid because we have refused, failed or neglected to appropriate for them their due salaries and emoluments that could not be correct, or that would not be right.
'I will therefore be asking the chairman if they can oblige us those areas that are still outstanding especially as concerned personnel cost so that we can take the advantage of this consideration now to filling this gaps so that every citizens of Nigeria as entitled to his pay would receive the pay appropriately and you cannot say that he will not receive it because we failed to do our job and we cannot blame the executive because we now have opportunities to address this problem.'
In his contribution, Senate Minority Leader, Senator Godswill Akpabio said, ''I want to congratulate the chairman of the committee my dear brother, senator Goje and all the members and the other sub-committees members and chairmen for a job well done most especially for the observations contained in this paper on the inconsistencies, the delays and shoddy jobs done on the budget by the different Ministries, Departments and Agencies (MDAs) and I know as a result of the fact that this is the first major budget of the current administration this to not to quantify of the change, this is rightly to be just mere mistakes and disconnect because a situation where ministries and MDAs to go and deny and even went up to the extent of denying their own budget before the appropriation committee is not good for our country. Vanguard